Skin coloration conditions are common among women whose skin begins to visibly age, or who are extremely exposed to sun rays. Colored spots on face, shoulders, back and chest are common if you enjoy spending a lot of time on the beach. However, these affect your skin and sometimes require a trip to the dermatologist. However, you can make your complexion look even and light again by finding the best hydroquinone cream and using it. Hydroquinone is a chemical compound which actively fights melanin – the substance responsible for skin coloration. Dark skin or spot appear due to excessive melanin production. There are over-the-counter products which contain the substance that rebalances your skin. You can find the best hydroquinone cream by carefully looking into your skin condition and type and finding the product with the ideal formula. We have gathered seven of the best such creams together to help you make an informed purchase of your skin treatment. Find the products below!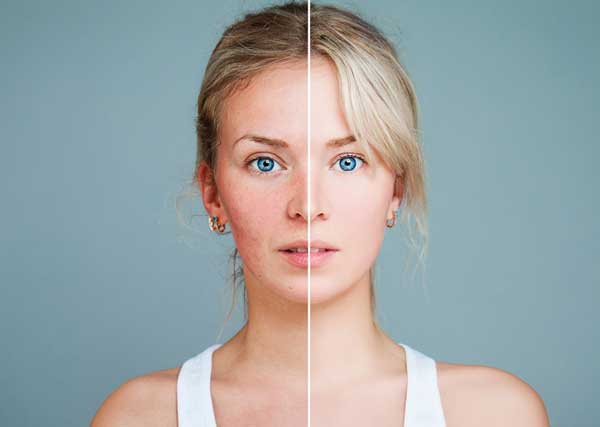 7 of the Best Hydroquinone Creams and Why They are Effective7. Alpha Hydrox Spot Light Targeted Skin Lightener
This product contains an amount of 2% hydroquinone and collagen which helps the cream naturally fight melanin. Specialized beauty product reviews websites such as BeautyEssential have ranked it among their top 5 options thanks to its potency given by the 10% glycolic acid it contains.
Main ingredients: Besides the above, the cream also contains mineral oil, and vitamin E. Why it's reliable:
The cream suits all skin types, including combination textures. It should be used twice a day for maximum effects. The skin sensitivity risk is minimal, if you're exposed to sunlight without protection. 6. Emma Cardinelli Skin Lightening Cream The best hydroquinone cream for women works with ingredients which mix to create a chemical team which helps hydroquinone absorb quicker and better. Hydroquinone unglues dead skin cells and inhibits melanin more efficiently if it works together with an acid. Main ingredients: Among others, the cream contains 2% hydroquinone, 6% glycolic acid, licorice extract, ferulic acid and vitamin E. Why it's reliable: • You can use it for your face, neck and chest and even in private and sensitive areas. It fades dark spots to provide a more youthful look. Results are visible within 3 weeks and you can maximize them by exfoliating your skin. 5. Vitara Melloderm-Hq 2% The once-daily-at-night cream works for melasma and freckles. Customers claim it's better than average creams, even though it's a small tube that allegedly lasts for a week. An extra point goes to this cream for having a quick effect and clear instructions. Main ingredients: The cream contains the FDA-approved 2% of hydroquinone content. Why it's reliable: The cream is easy to use, and dermatologists tend to prescribe it for quick effect. The cream might be too potent for hyper sensitive cream. However, your dermatologist will decide if you should use it. This product is packed so that you can easily take it with you to travels. 4. Divine Derriere Skin Lightening Serum This is a skin corrector which you use on face, neck, elbows, knees, underarms and private sensitive areas. It works through steps by exfoliating the skin, removing dirt and oil and allowing hydroquinone to absorb in the skin. Main ingredients: The cream contains 2% hydroquinone, 6% glycolic acid and lactic acid, vitamin e, licorice extract and niacinamide to even the skin tone. Why it's reliable: • Dark and colored spots fade after 4 weeks of use. • You will only use a small amount of the cream. So, there's no need to purchase two boxes for the treatment. • You can apply it once or twice per day, according to your dermatologist's indications.
3. Iluma Intense Bleaching Serum Serums are usually more concentrated. So, this bleaching product provides the most you can get from an over-the-counter option for an affordable price. This could be the best hydroquinone cream for women if you're looking for quick results for regular skin. Main ingredients: The cream contains hydroquinone 2%, azelaic and citric acid and licorice root extract which work together. Why it's reliable: • You can avoid most side effects by applying just a small quantity on your skin. • Results are maximized if you mix it with nourishing skin oils and sunscreen. • It also gives your skin a natural and youthful look by subtly brightening the complexion tone. 2. Alpha Hydrox Spot Light Targeted Skin Lightener If you're looking for the best hydroquinone cream for women with all skin types, the you might have just found it. This cream is balanced and yet intense for maximizes results. It helps your skin produce collagen and heals color wounds. Main ingredients: The cream stands out for containing hydroquinone 2% and glycolic acid 10%. It also has mineral oil and vitamin E, among others. Why it's reliable: Anyone with skin color conditions can use it. Spots fade so much you might just give up lightening make-up products and concealers. Results can be maximized by applying the cream twice a day. 1. Admire My Skin Ultra-Potent Brightening Serum The best hydroquinone cream for women is an intense serum which has a symphony of ingredients. It exfoliates your skin thanks to alpha hydroxy acids (AHAs). The cream also brightens the skin and fights acne. Main ingredients: The product contains hydroquinone 2% as an active ingredient. It also has witch hazel water, lactic acid, salicylic acid and kojic acid among others. Why it's reliable: The cream works for so much more than dark spots. You can also use it for acne scars, blemishes and other pore issues. Your dark spots might turn even more colorful within a few days. This is part of the treatment. The spots will soon exfoliate. • Customers have used it for nose, lip and other spots which fade away after treatment. Some even praise the products for its success when used with darker skin. To Complexion Health The above over-the-counter products have been chosen from hundreds of options available online and in pharmacies. Also, they are FDA-approved due to their hydroquinone balanced content.
You can easily find the best hydroquinone cream for women by analyzing your skin complexion and conditions. Then, consult with a dermatologist and use these products for long-term effects! Featured Image Source.