Acqua di Parma NEW Blu Mediterraneo Fragrance: from the world of Acqua di Parma's Blu Mediterraneo collection, introducing… BERGAMOTTO DI CALABRIA an uplifting, vibrant and sunny new fragrance. Be transported to a natural paradise on the southern shores of Italy's Calabria region with the newest fragrance from Acqua di Parma's Blu Mediterraneo collection.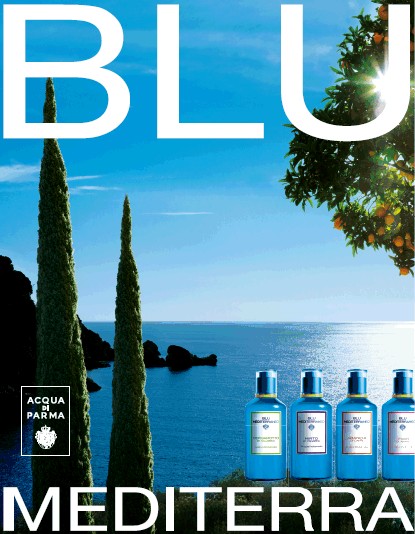 This new creation, and the sixth installment in the Blu Mediterraneo collection, is a tribute to one of Italy's most beloved natural ingredients, the Bergamot. A type of citrus fruit, the Bergamot's natural aroma is both bright an effervescent and has played a supporting role in many of the world's leading perfumes. Acqua di Parma celebrates this important ingredient with a skilfully-facetted composition rotating around two exceptional Bergamot essences, both of which have been protected by the DOP (Domination of Product Origin) by the Bergamot Consortium of Reggio Calabria (a governing agricultural agency). The other ingredients, just as natural and precious, have been selected one by one to highlight the different nuances of actual Bergamot.
The fragrance opens with a burst of vitalizing energy. The green, sparkling top notes of bergamot are exalted by the freshness of citron, also from Calabria. The perfume slowly unlocks its soft, intense bouquet, revealing the fruity, floral accord of bergamot in its heart notes, followed by notes of cedar wood and red ginger. The base of the fragrance is rounded out by a warm and unusual combination of vetiver, benzoin and musk. An uplifting scent, unleashing all the sun-splashed beauty of an ancient land and the luxuriant splendor of Mediterranean nature.
The collection launches this month with an exclusive preview at Neiman Marcus and Bergdorf Goodman stores and online at neimanmarcus.com and bergdorfgoodman.com, followed by the world wide launch in March 2010, when it will be available at other retailers such as Barneys New York, Saks Fifth Avenue, select Nordstrom stores and Sephora.com.
The range will consist of the following :
Eau de Toilette spray: Available in a 60ml EDT for $70 and 120ml EDT for $106.
Exhilarating body cream: An extraordinarily luxurious and soft-textured, body cream with a rich, hydrating, protective formula that is quickly absorbed by the skin, leaving it soft and velvet-smooth. 200ml, $67.