2011 Golden Globes nominee for Best Performance by an Actress in a Supporting Role in a Feature Film, Amy Adams, looked radiant as she wore a gorgeous strapless Marchesa gown with her fabulous red hair worn in a flowing, back-braided updo created by celebrity stylist Laini Reeves.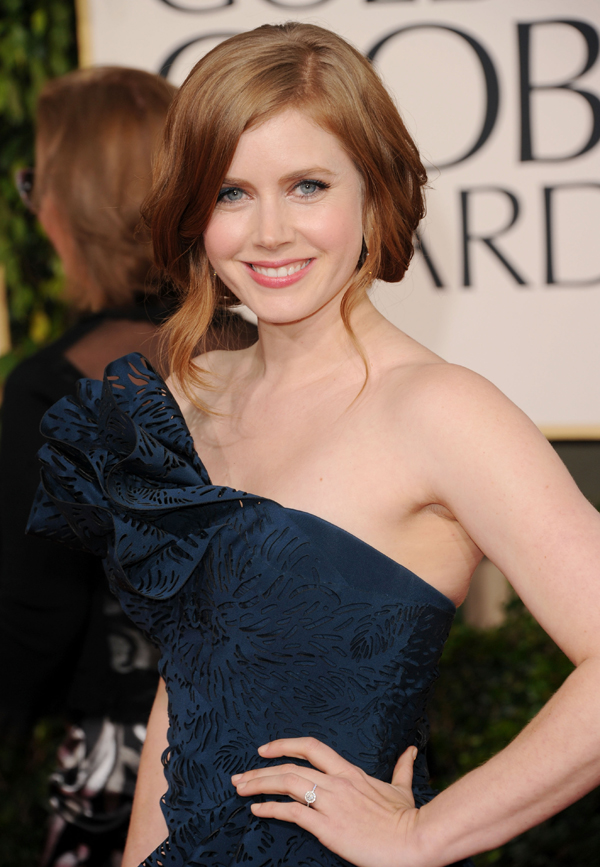 Laini Reeves explains how the look was styled:
"I wanted to create a soft 20's mood, but in a different, modern way. We started by changing the texture of her hair before we went on to loosely braid and roll the chignon. Amy has a beautiful, full and thick head of hair and a nice, natural wave. We started by washing her hairwith Moroccanoil® Moisture Repair Shampoo which infuses the hairwith argan oil, keratins, fatty acids, and proteins. Combined with Moroccanoil® Moisture Repair Conditioner, it immediately controlled the hair and left itsmoother, frizz free and easy to manage and style.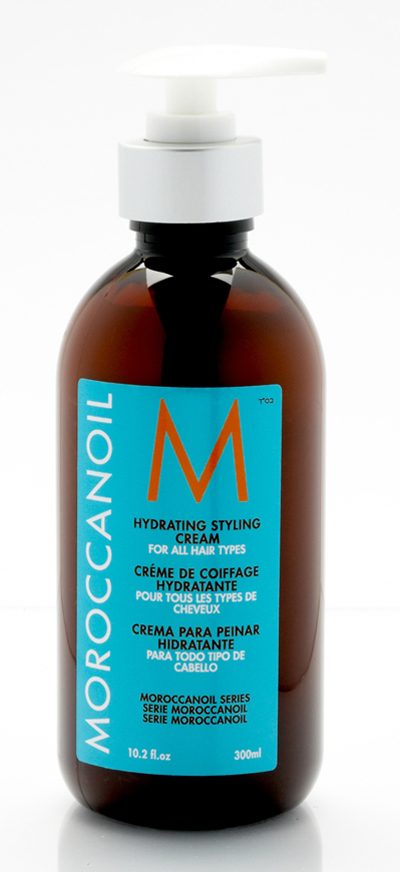 Moroccanoil® Hydrating Styling Cream
I then applied Moroccanoil® Hydrating Styling Cream while it was drying, from root to end to give soft hold while further smoothing the texture and adding definition and shine. I rough-dried the hair with my hands to get the water out and created a bit of a messed up texture with a slight touch of wave for a more modern, freer look. The hair was air dried except at the roots, where I used a blow dryer.
Next, I used a 1" curling iron to make curls in different parts of the hair that needed to be filled in and then smoothed and blended them in. I made a side part and prepared some pieces from the front of the hair to frame her face, pinning them in an "S"-shape and away from the rest of the hair.
I gathered and pulled back the rest of hair, made a loose braid that I doubled up, rolled upwards and pinned at the nape, with the cross texture side of the braid showing. Only five thick bobby pins were used to secure the style in place.
Finally, I released the "S"-shaped sections in the front and pinned them behind the ear to open her face up and to show off her cheek bones. I then sprayed the look with Moroccanoil® Luminous Hairspray to keep everything in place with movable shine, without looking like it was sprayed.
Products used to achieve Amy Adams' look:
Moroccanoil® Hydrating Styling Cream gives beautifully hydrating and natural-looking hold while eliminating frizz, and adding definition and shine. (MSRP: $31.80 / 10.2 fl. oz.)
Moroccanoil® Luminous Hairspray is argan oil-infused for lasting, healthy and natural-looking hold with shine. (MSRP $21.00 / 10 fl. oz.)
The originator and industry leader of luxury, professional argan oil-infused styling, finishing and conditioning products for the hair, the Moroccanoil® brand is world renowned for its proprietary lightweight, instantly absorbed formulas and unparalleled results.
Moroccanoil's argan oil is harvested under a free trade program, which provides substantial socio-economic support to thousands of families in the Southwest region of Morocco. Moroccanoil® products are sold exclusively in fine salons. Consumers can find the nearest salon by visiting http://www.moroccanoil.com.