In celebration of Earth Day, AVEENO hosted a design contest with Fashion Institute of Technology students to create the print for a limited-edition, organic cotton AVEENO ENRIROSAX Bag. On Earth Day, April 22nd, the first 1,000 people to log-on to AVEENO.COM/JUBILANCE at 12:00 PM (Eastern Time) will receive the winning bag plus a sample of the new AVEENO NOURISH+ Hair Care Collection.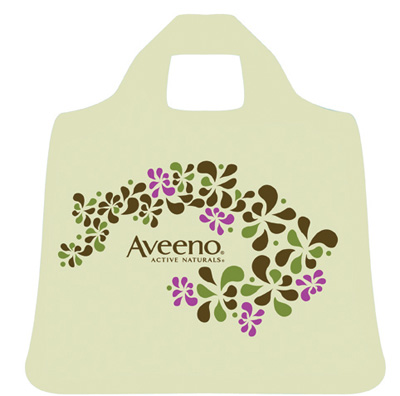 These eco-chic bags, designed by up-and-coming designer Jeff Tsui, will never be sold in stores and they benefit a great cause! For every bag given away, AVEENO will make a $10 donation to Global Green USA, which supports the fight against global climate change and the creation of green buildings and cities within the United States.
 "AVEENO has always been committed to inspiring natural beauty in women and the world around us," said Mike Marquis, Group Product Director of AVEENO. "This contest and giveaway not only celebrates the beauty of nature, but also the importance of protecting the environment. Each bag given away will support global climate change, and hopefully reduce the number of disposable shopping bags used."
The design contest was launched at FIT in the fall of 2008, and in January 2009, ELLE magazine readers could vote for their favorite design from the top three finalists. Over 3,000 people voted, and Jeff Tsui's "Jubilance" was the overwhelming winner. In addition to producing the limited edition, organic cotton AVEENO ENVIROSAX reusable bag, AVEENO awarded Jeff $1,500 toward his academic studies; the 2nd and 3rd place designers were each awarded $750.
"I am thrilled to know that my design is going to support a cause I am committed to," says winning FIT Design Student Jeff Tsui. "My 'Jubilance' design will be featured on organic cotton sourced from a cooperative in Peru. So in addition to reducing the use of plastic bags, we are also helping to support the farmers and their communities. The generous donations by AVEENO to Global Green USA will also be used to empower green initiatives in the United States; and like this program, I hope my design inspires others to protect and celebrate the Earth."