AXE TWIST Fresh Fragrance That Changes & GIVEAWAY: I'm loving the NEW AXE Twist Deodorant Bodyspary. Girls, if you don't want your boyfriend or husband to smell like an 'old man' then you must check this. The smell starts citrusy and fresh but it's a rounded and warm citrus type of scent, not 'poky'.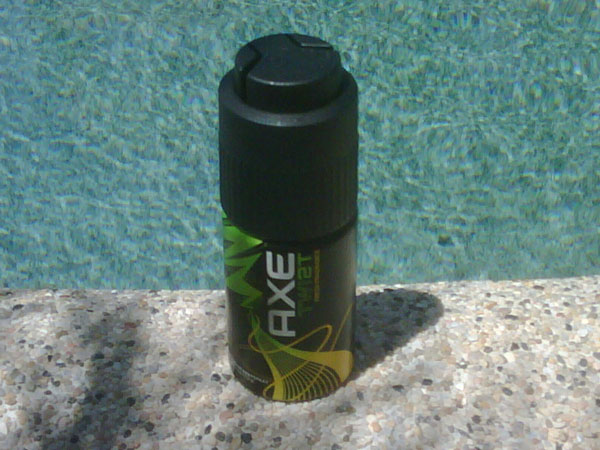 My husband loves AXE Twist because he is into modern and sophisticated scents not old fashion cologne scents. He actually loves the mixture of fresh citrus with the warm and cedar and sandalwood notes. I like spraying it on myself too it's SO GOOD (can I say it smells 'sexy')! Another great thing about AXE Twist Deodorant Bodyspray is the way the fragrance develops through the day or from the first second you apply. The difference between the 3 base notes is very distinct. It's like 3 perfumes in one. Needless to say, I can't get enough. And it's available at drugstores. Revolutionary. Well done AXE. Marta approves. 🙂
AXE "Twist Pack" GIVEAWAY: Talking Makeup is excited to let you have the NEW AXE Twist fragrance collection! YAY. We're giving away the "Twist Pack" (image above) which includes (image below): AXE Twist Deodorant Bodyspray, Deodorant Stick, and Antiperspirant Stick to 15 lucky readers!
How to enter to WIN: Simply leave a comment under this post and tell Talking Makeup why should we pick you! GOOD LUCK! xo Marta
More about the NEW AXE Twist Deodorant Bodyspary: It's a fresh fragrance that changes over time to keep girls interested. Developed by world-renowned fragrance expert Ann Gottlieb (the nose behind fragrances included OBSESSION, ETERNITY, DAISY for Marc Jacobs, COVET for Sarah Jessica Parker and many more) and perfumers at Firmenich (the largest privately-owned company in the fragrance industry) AXE also engaged 20 college age consumers to help develop a the AXE Twist product line. Notably, the consumer group included a mix of guys and girls, truly making the product guy-tested and girl approved. Twist starts with fresh hints of citrus and lime to make a good first impression, and then adds more depth with earthy notes of cedar and sandalwood to keep guys smelling good and to keep girls interested.
What do they mean with "Fragrance that Changes" you might ask: Well, all fragrances have three notes: Top Note (which lasts up to an hour); Middle Note (lasts longer than the top note, is often a little milder) and a Bottom Note or Base Note (longest lasting part of a fragrance) Generally speaking, differences between the three notes are minimized. However, in AXE Twist, the co-creation team and perfumers worked to magnify the differences, which is why AXE Twist says on the can that it's the "Fragrance that Changes."
Availability:
• AXE Twist is available in a Deodorant Bodyspray, Deodorant Stick, Antiperspirant Stick and Shower Gel all have a suggested retail price of $4.99.
• AXE 12 fl. oz. Shower Gels and have a suggested retail price of $3.99.
AXE products are available at most food, drug, club and mass outlets.
Post above is a sponsored post.