Bethenny Frankel, Real Housewives of New York, attends the Sugar Factory opening in Las Vegas with Rain Cosmetics!
Get Bethenny Frankel's Las Vegas Look: with Rain Cosmetics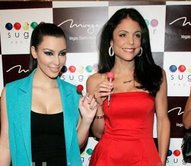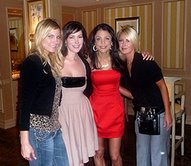 The look designed for Bethenny was inspired by sexy, modern Vegas style with clean liner on the eyes, flawless skin, and soft cheeks.
To get the look:
· Bethenny's gorgeous eyes: Start with eyes first so that any eye shadow that falls around the eye can be easily cleaned up. For Bethenny's eyes use Rain Cosmetics' Silky Eye Shadow palette in Sky/Poetry. These natural colors give a nice nude base for the eyeliner.
Next, line eyes with Rain Cosmetics' Expressive Eye Liner in Black. For smooth precise application of eye liner, warm up the pencil formula by rubbing the liner back and forth on your hand before apply to your eyes.
· Bethenny's flawless face: To keep skin looking natural yet flawless, use Rain Cosmetics' Perfect Cream Foundation and set the foundation with Rain Cosmetics' Setting Loose Powder using a large powder puff. Apply Rain Cosmetics' Glowing Blush in Strip Tease to the apples of the cheeks for a soft natural flush.
· For Bethenny's perfect pouty lips, use Rain Cosmetics' Expressive Lip Pencil in Sweet and line both top and bottom lip. Then use Rain Cosmetics' Glam Lipstick in Rehab to give her a soft pretty pout. To top of the look, use Rain Cosmetics' Sexy Extreme Lip Gloss in Encore for the perfect sexy shine.
For product details visit: www.raincosmetics.com
Bethenny Frankel interview with Marta Walsh