BEAUTY TRENDS: Blow Dry Shops
Beauty Icon Allen Edwards knows a thing or two about industry trends. After all, Edwards has been a leading force in the world of hair and beauty for over three decades. He is the owner of two full service salon and spas in Brentwood and Woodland Hills, CA and is the creator of the Shear Force hair product collection.
"Blow dry only shops are opening up all over town and they are charging $35…A price we haven't seen since the 1970's", states Edwards. "They are pulling clients away from every major salon where professionally trained salon stylists charge $60 and up. The full service salons are loosing a huge amount of business and, in an already tough economy, it's a major blow".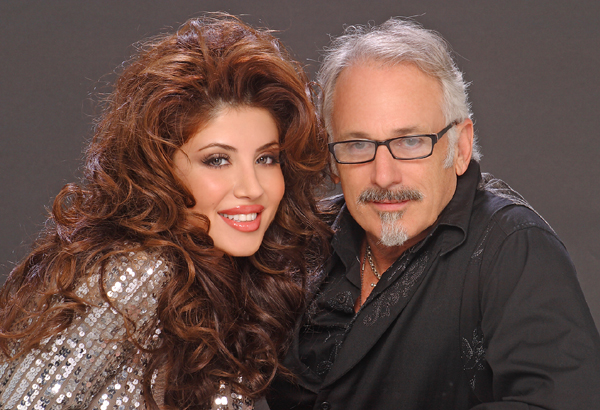 Allen Edwards with Deal or No Deal Lucky #13 Leyla Milani
L.A.'s first blow dry salon "Drybar" opened its doors on San Vicente Blvd., just a mile from Edward's Brentwood Salon. Drybar charges $35 for a shampoo and blow dry and customers are encouraged to schedule appointments on-line. The original blow dry salon is in Manhattan called "BLOW ~ The New York Blow Dry Bar". BLOW is a full service salon, specializing in blow drys and prices range from $40 to $60, depending on the length and texture of your hair and what is needed to create the look. This format feels more professional to Edwards — If the hair needs more work, the client should be charged.
Edwards feels the high-volume blow dry salons pay stylists very little in order to charge such a low price. They are hiring hairdressers who are looking for work. The Allen Edwards Salon and other top salons invest a great deal of money on training and educating their stylists to give the customer top quality service. For hairdressers who have invested in salons over the years, it's really not about the money, it's about the art. Additionally, blow dry shops tend to be backed by outside investors and not hands-on industry professionals. And the relationship is very impersonal, your blow dry is scheduled with whoever is working at that time. Edwards is concerned about the effect on the industry, but realizes that blow dry salons do provide a service.
Allen Edwards Salon + Spa in Brentwood has always been known for doing a fabulous blow dry. To take it to another level and compete with the blow dry shops, Edwards is offering his blow drys to start at $40. Your blow out will be done by an experienced stylist at Allen Edwards Salon with polish change, manicures and pedicure offered at special rates. "Our desire is to make you happy and beautiful — Why not go to the best!" explains Edwards.
P.S. Don't Forget The Men: Allen Edwards Brentwood Salon opens for Men's Night Only every Wednesday evening, offering complimentary wine and special prices.
Allen Edwards Interviews With Marta Walsh