New Makeup. Bobbi Brown NEW Creamy Concealer & Corrector, available from March 2011.
"This new formula gives you quick, perfect coverage. It's rich and creamy without being thick –so it goes on easily & blends smoothly with minimal effort".-Bobbi Brown
Bobbi's taken her number one beauty secret and made it even better. Reformulated to deliver perfect coverage, the new Correctors and Creamy Concealers erase dark circles as only Bobbi Brown can.
Bobbi's Secret of the Universe. Bobbi believes that the secret to covering dark circles lies in a unique two-step approach. She starts with pink- or peach- toned Corrector to brighten and neutralize the purple and green tones of under eye circles. For pale skin, she recommends the lighter Corrector shades starting with Porcelain Bisque. For deeper skin tones, she recommends the Medium to Dark Bisque and Peach Shades. Next, Bobbi uses yellow-toned Creamy Concealer to lighten and blend the under eye area with the rest of the face.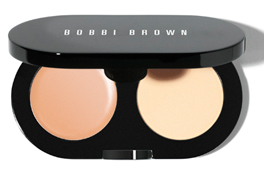 Corrector & Creamy Concealer. What's the difference?
Texture: Creamy smooth for easier application
Coverage: Concentrated medium-to-full coverage – a little goes a long way
Ingredients & Benefits:
Emollients help maintain skin's moisture levels for a smoother, virtually lineless look.
Lecithin conditions skin.
Vitamins C & E offer antioxidant benefits.
Silica creates a soft-focus effect that helps soften the look of fine dry lines.
Kaolin, a natural mineral, helps formula stay in place and prevents it from settling into lines.
Corrector is available in 12 shades:
Porcelain Bisque, Light Bisque, Light to Medium Bisque, Bisque, Medium to Dark Bisque, Dark Bisque, Deep Bisque,
Very Deep Bisque, Porcelain Peach, Light Peach, Peach, Dark Peach
Available March 2011 from Bobbi Brown counters and www.bobbibrown.com. Price: $22.00.
Creamy Concealer is available in 14 shades:
Porcelain, Ivory, Warm Ivory, Cool Sand, Sand, Beige, Warm Beige, Natural, Natural Tan, Warm Natural, Honey, Golden, Almond, Chestnut
(Also available, Creamy Concealer Kit with Pressed Powder)
Available March 2011 from Bobbi Brown counters and www.bobbibrown.com
Creamy Concealer, $22.00, Creamy Concealer Kit, $32.00