Introducing: Celebrity Makeup Artist and Luxury Cosmetics Designer AJ Crimson. Co-founder of luxury cosmetics line, Kissable Couture, AJ has built an established reputation for clean yet luxe makeup and skin techniques, while quickly becoming one of today's premier makeup artists and beauty experts. AJ has worked on numerous key campaigns with many artists and celebrities including Fergie, Hillary Duff, Adrienne Bailon, Amerie, Estelle, Mya, Christina Milian, Letoya Luckett, Missy Elliott and Keyshia Cole just to name a few.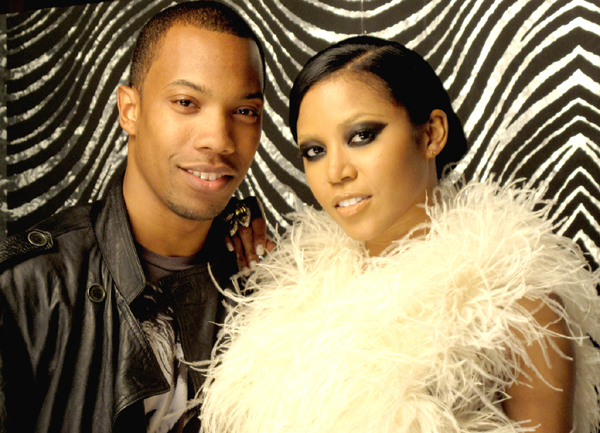 AJ Crimson With Recording artist Amerie
"Always remember this Beauty Statement: There's no need to break the bank to look great!"– AJ Crimson.
WATCH: AJ was recently on The E! Network's "That Morning Show", sharing some of his beauty tips with all of you beauty addicts out there in the world!
visit www.ajcrimson.com to learn more about AJ's work! 
About AJ Crimson
AJ Crimson is an established Celebrity Makeup Artist who is most known for his innovative and creative beauty solutions. He has worked on numerous key campaigns with many artists and celebrities including Fergie, Hillary Duff, Adrienne Bailon, Amerie, Estelle, Mya, Christina Milian, Letoya Luckett, Missy Elliott and Keyshia Cole just to name a few. Editorially, Crimson is an oft-quoted beauty and cosmetics media expert. His analysis and work is regularly featured in fashion and lifestyle magazines worldwide such as Glamour, Ocean Drive, InStyle, Real Simple, Life & Style Weekly, The Village Voice, LA Confidential, Essence, Zink, Vibe and leading Japanese magazines, Blenda and Luire and many others. He is currently the youngest founder and designer of a luxury cosmetics line under age 30 with the recent launch of the widely popular Kissable Couture, a line he founded in association with co-creator and business partner Keisha Whitaker