CHANEL Beauté and its Makeup Artist, Angela Levin, created Nicole Kidman's makeup look for the 2009 Academy Awards.
Beauty Inspiration: "When I asked Nicole what we wanted to do for the Oscars, she told me she just wanted to look beautiful! So I decided to go for basic, beautiful makeup that shows who she is – an unbelievable beauty, timeless and glamorous. Her look was pure and gorgeous, just as it should be for the 81st Academy Awards."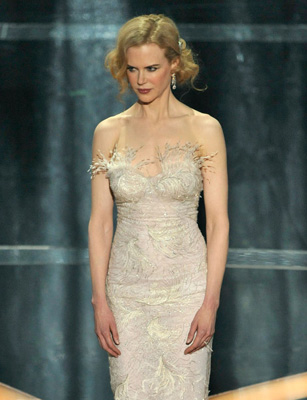 How to get Nicole Kidman's Oscars 2009 red carpet makeup look: Angela prepped Nicole's skin with he favorite skin care product, CHANEL Hydramax + Active Moisture Boost Cream. On her eyes, she used the sultry shades from the CHANEL Quadra Eye Shadow in Reflets d'Ombre. Several coats of CHANEL Inimitable Mascara in Noir-Black were applied to create a glamorous, modern eye.
Angela Levin applied CHANEL Blush Duo Tweed Effect in Tweed Rose on Nicole's cheekbones. For an added flawless effect, Angela used CHANEL Natural Finish Pressed Powder in Translucent 1 all over Nicole's face. To create a sophisticated, glossy wine coloured lip, she applied CHANEL Aqualumiere Gloss in Bubble Plum.