CHANEL BEAUTÉ AT THE 2011 SAG AWARDS. Marta Walsh has just got the word that: The CHANEL press office is proud to announce Hilary Swank, Nicole Kidman, January Jones, and Dianna Agron wearing CHANEL Beauté at the 17th Annual Screen Actor's Guild Awards. Sunday, Los Angeles, CA, January 30th, 2011.
DIANNA AGRON/Makeup Artist Kate Lee
Beauty Inspiration:
"Dianna wore a vintage CHANEL Haute Couture dress in navy with a black lace overlay. I wanted to make Dianna appear fresh and up to date."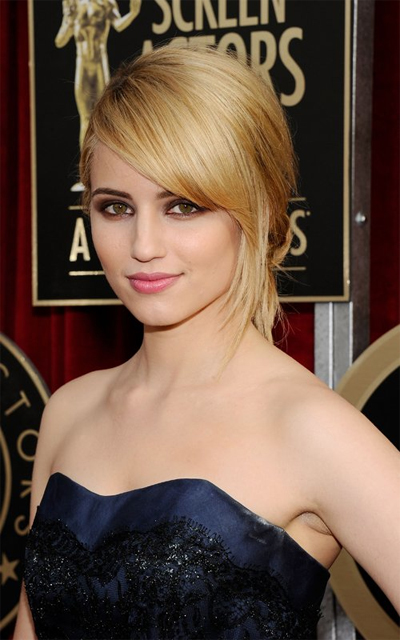 Marta Walsh's favorite at 2011 SAG Awards Dianna Agron Best Dressed in Vintage CHANEL, best makeup by CHANEL, and Best Hairdo.
Get the Look:
"I started by using CHANEL Intense Eye Pencil in Ambre to smoke put the inner lid, then gently blended it onto the upper and lower lash line.
I worked over the top with CHANEL Soft Touch Eyeshadow in Cinnamon, a dark burgundy shade. On the inner third of the lid I used grey shimmery tone from the CHANEL Quadra Eyeshadow in Enigma. I blended and melted the colours away from the socket. Lashes were curled and given one coat of CHANEL Inimitable Mascara in Noir-Brun. I finished off the eye by sculpting Dianna's brows with Anastasia's brow pencil and tinted brow gel. I then applied a layer of CHANEL Hydramax + Active Serum, followed by Nars oil free primer. I perfected the skin with CHANEL Vitalumiere Moisture-Rich Fluid Makeup. On the apple of the cheek I used CHANEL Powder Blush in Fresque which is a beautiful peach shade that shines pink and adds a really pretty dimension to the cheek. On the lips I used CHANEL Rouge Coco Shine. Lip Colour in Romance to add a pop of pink an keep the look youthful!"
HILARY SWANK/Makeup Artist Kara Yoshimoto Bua & Manicurist Tom Bachik
Kara's Beauty Inspiration:
"Hilary's look was inspired by 70's screen goddess, Ursula Andrews. She wore a Versace one shoulder soft champagne toned dress with caramel beaded detail."
Get the Look:
"Hilary's eyes were extended out with CHANEL Eye Definer in Brun-Cuivre blended along entire upper lashline and lower lashline, on outer half of eye and into crease to create the more graphic shape of the 60's/70's lined eye. I finished off the eyes with CHANEL Inimitable Intense Mascara in Noir and Ardell individual lashes on the outer half of eyes. Her cheeks are warmed up with a peachy tone, CHANEL Powder Blush in Fresque. I kept the lips softly lined with CHANEL Lip Definer in Beige, and moistened with CHANEL Rouge Coco Shine Lip Colour in Canotier." Tom Bachik used CHANEL Nail Colour in Inattendu on Hilary's nails.
NICOLE KIDMAN/Makeup Artist Angela Levin
Beauty Inspiration:
"Nicole's dress at the 2011 SAG Awards reminded me of a sexy super movie star, gorgeousness and simplicity were my inspiration."
Get the Look:
"First, I prepped Nicole's skin with CHANEL Sublimage Concentrate. To complement her sexy black dress, I wanted her eyes and lips to stand out. I framed her eyes with a dark liner made from the deepest shade in the CHANEL Quadra Eyeshadow in Stupendous. To really make her eyes pop, I then applied three coats of CHANEL Inimitable Mascara in Noir. On her lips I used CHANEL Rouge Coco Shine Lip Colour in Monte-Carlo."
JANUARY JONES/Makeup Artist Rachel Goodwin
Beauty Inspiration:
"I wanted January's makeup to have a shimmering, candlelit quality to it. I was inspired by her black and gold lace dress which had a very decadent romantic feeling to it. I used different shades of gilded metallics and reflective textures on her eyes, cheeks, and lips"
Get the Look:
"I lined her eyes with CHANEL Precision Eye Definer in Gris Scintillant, a sparkling pewter pencil blending all the way into the crease along with a pale gold cream color to her upper lids and inner eyes. Her cheek and brow bones were brushed with Soleil Tan De CHANEL Moisturizing Bronzing Powder for soft radiant highlights. I finished with CHANEL Rouge Coco Shine Lip Colour in Boy on her lips, a delicate luminous petal pink."