CHANEL introduces NOIR ET OR Paris-Shanghai Collection
For the "METIER D'ART" fashion show in Shanghai, Peter Philips, Global Creative Director of CHANEL Makeup, created an exclusive collection, NOIR ET OR. The collection is a glamorous fantasy of Shanghai in the 30's and 40's as Coco Chanel herself may have imagined it. The black and gold eyes and nails complimented the gilded and jet black accents shown on the runway.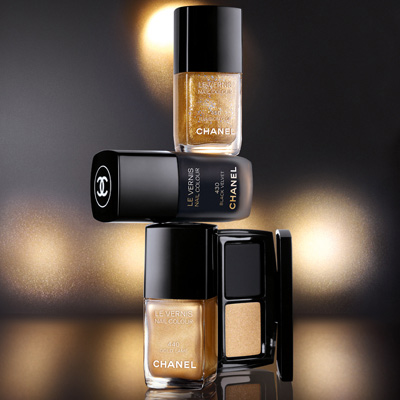 EYES:
Ligne et Ombre de Chanel in Jet-Gold
Matte black eyeliner and sparkling gold eyeshadow $45.00
NAILS:
Le Vernis Nail Colour in Black Velvet
Matte black nail color in a frosted bottle $25.00
Le Vernis Nail Colour in Gold Lamé
Satiny gold nail color $25.00
Le Vernis Nail Colour in Illusion d'or
Transparent sparkling gold nail color $25.00
On counter: April 2010
Available exclusively at www.CHANEL.com, CHANEL boutiques and CHANEL Makeup Studios.