CHANEL introduces Ultra Correction Line Repair. The revolutionary new anti-wrinkle solution, ULTRA CORRECTION LINE REPAIR, helps to naturally prevent and correct the appearance of lines and wrinkles at the source.
The exclusive scientific discovery: CHANEL Research identified FN3K in the skin, an enzyme responsible for removing sugar from rigidified collagen fibers, thereby contributing to the natural prevention and correction of the appearance of lines and wrinkles at the source.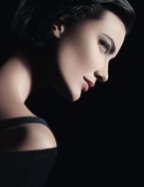 The ingredient: Bay Cedar PFA, a natural ingredient purified to its most potent essence, aids in the natural wrinkle correction process by enabling collagen fibers to regain their original flexibility and tone.
The ultimate scientific proof: CHANEL Research established a protocol of tests, in line with the standards used in the field of dermatology, to demonstrate intense, targeted and durable anti-wrinkle effectiveness.
Suitable for all skin types, five luxuriously textured, delicately scented formulas work together immediately and over time to help restore smooth, radiant skin from within.
Anti-Wrinkle Day Cream SPF 15, 1.7 oz. $125.00
Anti-Wrinkle Day Fluid SPF 15 (Oil-free), 1.7 oz. $125.00
Anti-Wrinkle Night Cream, 1.7 oz. $135.00
Intensive Anti-Wrinkle Concentrate, 1.0 oz. $135.00, 1.7 oz. $185.00
Anti-Wrinkle Eye Cream (Oil-free, Fragrance-free), 0.5 oz. $85.00
OPHTHALMOLOGIST TESTED. DERMATOLOGIST TESTED. COMEDOGENICITY TESTED.
On counter: July 2010
Available at www.CHANEL.com and department and specialty stores.
About the Author
I am one of the top fashion and beauty bloggers in the world also a Luxury Paradise Valley and Scottsdale REALTOR with Russ Lyon Sotheby's International Realty.