I'm adding the NEW book Classy: Exceptional Advice for the Extremely Modern Lady on my wish list at once. I'm going to order it from Amazon.com tomorrow morning. I've been following fashion writer Derek Blasberg on Twitter for quite some time now and he is one fascinating, witty, and very glamorous man (if can you describe men as glamorous?:)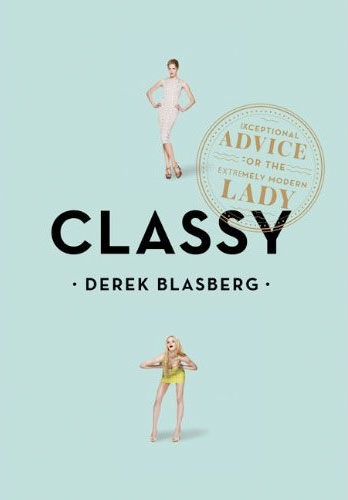 Derek Blasberg was born in St. Louis, Missouri. Since graduating from New York University in 2004 with degrees in Journalism and Dramatic Literature, he has written about the fashion industry, the New York art scene and the international social swirl for publications such as Vogue, Harper's Bazaar, W, V Magazine, Interview, the London Sunday Times and Conde Nast's Style.com.
Equal parts Midwestern good boy, Manhattan man-about town and international enthusiast of style, Blasberg has a unique perspective on some of the world's chicest ladies–and biggest tramps! He currently resides in New York City with his miniature dachshund, Monster.
Book synopsis: If you've ever wondered how to climb the social ladder with grace, how to feel confident in every situation, or even how to make a lasting impression (but not the kind that lands you on the latest "Worst Dressed List")—Derek Blasberg is here, with quotes and secrets from all the socialites so girls everywhere can learn how to have class.
This hilarious handbook will provide everything you need to know about fashion, socializing, dating, and etiquette. With tons of practical tips and tools for learning to flaunt what you've got, dozens of specific how-tos, common no-nos, and huge blunders that even smart girls make, this tongue-in-cheek book will train you to be a lady, and not a tramp!