I've just discovered a little gem of a skincare line called: Collective Wellbeing. Next time you are in Whole Foods and can't decide which organic and natural skincare brand to choose from, think Collective Wellbeing! Their products smell nice and are gentle enough for any skin type.
In addition,  a portion of the proceeds of each Collective product you purchase is set aside in a pool of funds from all purchases. Twice a year, a group of non-profits is chosen to receive what's raised. PRetty good right?
Here is a list of Collective Wellbeing skincare products I've tried and love:
Collective Wellbeing Honey Buff: A base of pure, certified organic honey is infused with a blend of lemon peel powder and rose hips seeds to provide gentle exfoliation. Echinacea helps keep pores clean and clear so that skin remains radiant. SRP: $13.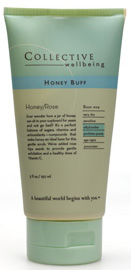 Collective Wellbeing Hot Pore Cleansing Scrub (Active Charcoal):
Hot Pore contains natural mineral powders that heat up temporarily. The gentle heating sensation helps to open your pores for a deeper cleansing treatment. Excess oil, make-up and other impurities are swept away by active charcoal and jojoba wax scrubbing beads. Salicylic acid and retinal remove dead skin cells and help to smooth skin texture. SRP: $15.
Collective Wellbeing Body Wash (Active Charcoal/Zinc):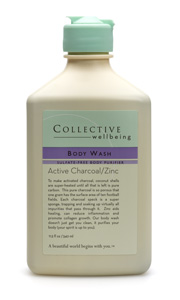 Activated charcoal is so porous that one gram has the surface area of ten football fields. Each speck is a super sponge, trapping and soaking up virtually all impurities that pass through it. Our body wash doesn't just get you clean, it purifies your body (your spirit is up to you). SRP: $12.
Collective Wellbeing Body Butter (Aloe Vera/Chamomile):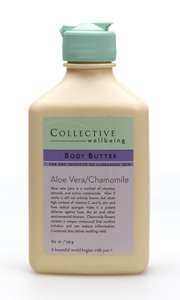 Aloe vera is a cocktail of vitamins, minerals and active compounds. How it works is still not entirely known, but aloe's high content of Vitamins C and E, zinc and free radical sponges make it a potent defense against heat, dry air and other environmental stresses. Chamomile flowers contain a unique compound that soothes irritation and can reduce inflammation. Combined, they deliver soothing relief. SRP: $12.
Collective WellbeingvWeightless Daycream (Chamomile/Aloe Vera):
Chamomile is rich in unique compounds that can reduce inflammation, regulate oil production and inhibit bacteria. We combine chamomile with aloe vera, whose high content of Vitamins C and E, zinc and free radical sponges make it a potent defense against daily environmental stresses. SRP: $19.
Collective Wellbeing Night Quenching Cream (Astaxanthin/Jojoba):
Astaxanthin is a naturally occurring compound from sea algae that offers antioxidant protection 500 times stronger than Vitamin E. We combine it with a blend of certified organic jojoba oil, aloe vera, and pure glycerine to hydrate, protect and restore your skin. As you sleep, it works. SRP: $25.
Collective Wellbeing Partner in Shine: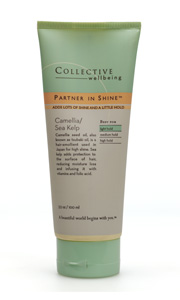 Shiny hair means healthy hair. Camellia seed oil nourishes your hair and adds healthy shine. Sea kelp adds protection to the surface of hair, reducing moisture loss and infusing hair with vitamins and folic acid. SRP: $12.