Summer Nails. Add a pop of colors to your nails this spring and summer with the hottest most fashionable shades from Deborah Lippmann!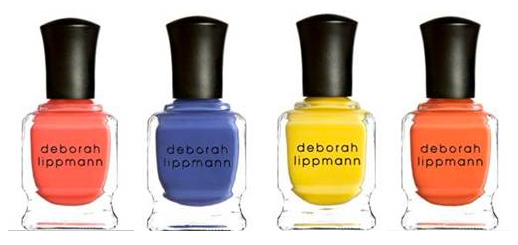 From Left to right: Girls Just Want To Have Fun, I Know What Boys Like, Yellow Brick Road, Lara's Theme
Girls Just Want To Have Fun – A smooth, vintage coral that everyone can wear because it's bold yet velvety – a sort of carefree, creamy coral.
I Know What Boys Like – A creamy periwinkle that credits to both the 80's and my clients. Several of my clients have asked for interesting blues. This one is a blend of blue and purple with a creamy finish, which gives it a slightly retro look that is so playful and hip.
Yellow Brick Road, a sheer mellow yellow with a jelly finish. The proof that it wears beautifully on all skin tones: it complements Lady GaGa, who wore it first for her "Born This Way" performance at the 2011 Grammy Awards .
Lara's Theme was created with supermodel Lara Stone is Deborah Lippmann's newest celebrity collaboration. It's a dare to wear shade of hot-hot orange. Price: $16.
Where to find: Barneys New York, Neiman Marcus, Nordstrom, and online at www.deborahlippmann.com.