On January 22, 2010, The Fashion Group International (FGI) will present the 13th Annual Rising Star Awards in New York City. The Rising Star Awards program was created to recognize emerging talents in the fashion and beauty industries by FGI, a global, non-profit organization with over 5,000 members in the fashion, beauty and home industries.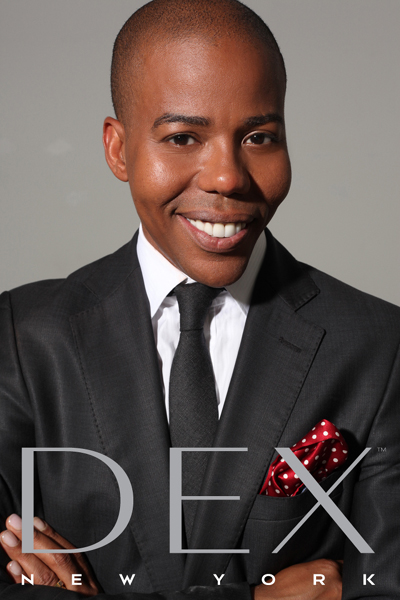 Dexter Phillip
This year, Dexter Phillip of DEX New York, was nominated as a Rising Star candidate for the Beauty Entrepreneur category. Find out why Dex is under consideration to follow brands as Bond No.9 New York, Paula Dorf Cosmetics and last year's winner AromaWear, to become the winner of one of the most prestigious awards in the beauty industry and how his brand concept and products differ from what is already out there in the cluttered beauty market!
Dex Phillip Rising Star Awards Interview
Q. How did you get to where you are today?
Dex: For the past 10 years of my life, the process of creating a beautifully crafted picture and stunning imagery was an everyday inspiration for me. As a stylist for the Ford agency, runway- and fashion-shoot producer and CEO of my own image consulting company called La Mode in New York, I was able to experience the height of fashion and beauty in action on an everyday basis and had the honor of working with the best professional makeup artists, photographers, equipment and tools in the industry. I wanted to bring these inspiring and exciting elements of a runway show, a red carpet moment or a fashion shoot, into one location and have it come alive for any woman who came into the studio. DEX New York Beauty Atrium and Studios, my all-in-one makeup, hair and photography production studio that is open to professionals AND every woman, is my vision and dream enacted.
Q. What defines you as a Rising Star?
Dex: I believe that a Rising Star is someone who has been able to turn their passion and dream into a reality while addressing the needs of women everywhere. I think I have achieved this with my two favorite creations: The all-in-one Beauty Atrium & Studio where professionals and women can come together to enjoy fashion, style and beauty in a professional, yet fun-filled setting; and the innovative "natural, not neutral" Modern Minerals full color collection that's anti-aging and natural but packed with vibrant color pigments and boasts a photogenic and flawless finish previously only possible with non-mineral makeup.
Q. What makes the Modern Minerals makeup collection different from others'?
Dex: DEX Modern Minerals is natural but NOT neutral and has anti-aging benefits for skin, even the eye area! Typical mineral makeup lines are usually boring with no vibrant colors or enough coverage that lasts, and is extremely drying on the skin due to the bismuth oxychloride that acts as the core base for the powders. They often leave an ashy, or too shimmery finish (if the base is Mica) that makeup artists and photographers find they cannot use for photography or on runways – and real woman were finding that was a daily issue with their regular mineral makeup as well!
I addressed all of these common concerns with an innovative DEX Peptide Complex which combines a matrix-fibroblast stimulant with palmitoyl hexapeptide-14 and a plant-derived extract (peat) to maximize skin's regenerative properties, acting as a wrinkle reducing agent with collagen-production stimulating abilities. I also blended the complex with 24k colloidal gold to allow efficient penetration into the skin and aide in the products' ability to stay on the skin without drying the skin's surface like Bismuth Oxychloride. DEX Modern Minerals provides long-term anti-aging results with an instantly radiant and fresh, photo-ready finish.
Q. What could one expect from a visit to DEX New York Beauty Atrium and Studio?
Dex: The expert artists, stylists, and photographers who are also currently working as professionals in the fashion and beauty industry, not just at DEX, treat every visitor like the gorgeous goddess she is. Our clients receive a glamorous Hollywood-premiere / red carpet experience; anything (or everything) from hair extensions, Moroccan hair treatments, manicures and massages, to one-on-one makeup lessons and applications followed with a studio photography session with wine and champagne upon request. Women come in to access this backstage runway-style adventure before big events, a night on the town, a wedding or for no particular occasion at all than to fulfill their desire to look and feel beautiful.
Q. What advice would you give to a young rising star who hopes to be "the next Dexter Phillip"?
Dex: The most valuable lessons that I have learned throughout my career is having gratitude, patience and being persistent in making your dreams come true. For me, gratitude comes in the form of my ability to stay composed and focused on the circumstances whether good or bad. This allows me to see the situation as it really is so that I can assess its potential opportunities and take it to another level when others might have felt defeated or discouraged by the process. I also believe in the statement that "rejection is protection" and all will come in due time with hard work, persistence and with a positive attitude. Equally important is having patience. My mother always said, slow and steady wins the race. One must be patient, because good things come to those who wait.
Q. Now that you're a rising star nominee, how do you give back? What are your initiatives?
Dex: DEX New York offers a variety of makeup workshops – from private lessons for the woman who just wants to be in the know, to workshops for makeup artists. These workshops are valuable learning experiences, and include a variety of DEX Modern Mineral makeup products. DEX New York Studios also encompasses an artistry school that caters to aspiring and accomplished makeup artists, photographers and stylists. DEX New York offers a professional backstage beauty environment and the production support necessary for fashion shows, look book shoots, makeup workshops and private beauty parties.
Q. What's next for you and your business?
Dex: I want to expand the DEX New York Modern Minerals collection and the services available at the Studio so that it is easily accessible to all women – around the globe! Every woman should know that with DEX, you can enjoy that glamorous, red-carpet moment at home, or at the studio, without harming your hair or skin. For now, our team is always ready for a personal consultation with you via phone at 212.643.3188, or you can find tips, trends and news from the DEX studio at www.dexnewyorkstudios.blogspot.com . Products are available at www.dexnewyork.com  or at the studio on 224 west 30th street, between 7th avenue and 8th avenue at the heart of the fashion district in NYC.