DKNY Fall 2010 – Hair by Wella's Eugene Souleiman and Eva Scrivo.
The Look: A refined side-swept ponytail projects a sexy equestrian vibe with a subtly strong, yet not too masculine look. The ponytail's length falls over the shoulder on the side where hair is parted, while just a few face framing layers are left to brush along on the opposite side of the face. The effortless elegance of this asymmetric look complements the proportions of any face because it offsets any imbalance of the facial structure.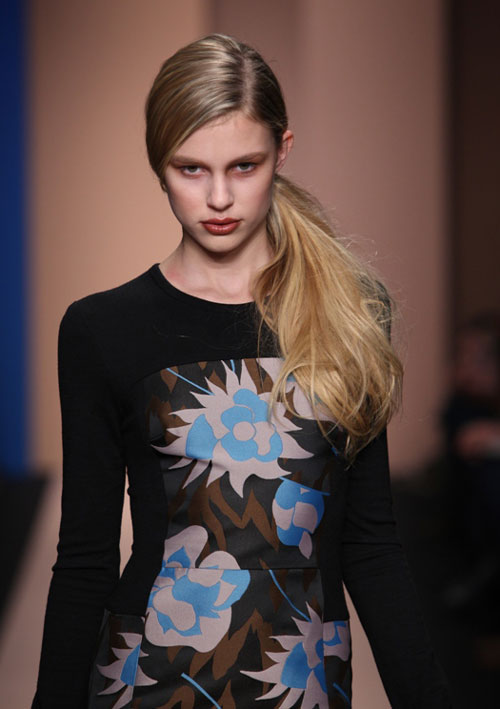 Inspiration: The fall '10 DKNY collection encapsulates NY art and soul, reflecting the convergence of creative worlds and individual style that is the spirit of New York City. The graphic, modern, and unique style resonates throughout the collection, including silhouettes as tall and lean as the skyline. A neutral palette of blacks, charcoal, umber, vicuna and oxblood is brightened with accents of bluebird, sapphire, peach, and oyster. Pieces are architecturally paneled with color, texture, and pattern, but maintain the versatility of the classic urban and sporty chic modernism befitting of NYC sophistication.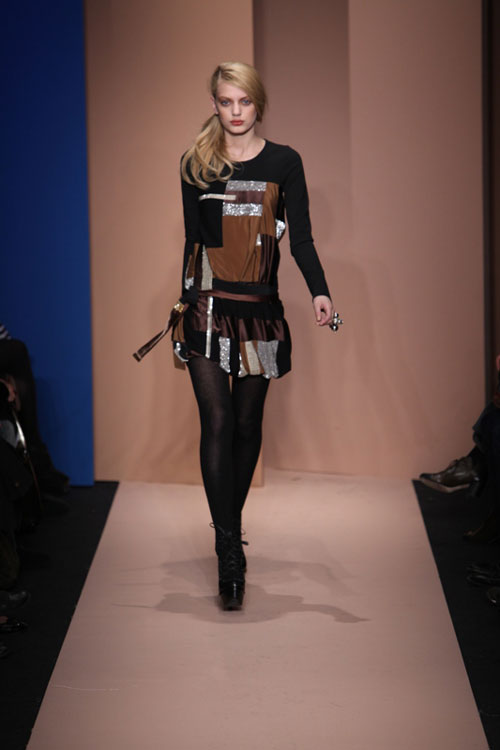 The Hair Color Story: Wella Professionals lead colorist Eva Scrivo directed a team of Wella colorists to handpaint extensions within the natural color palette of the models' hair –ranging from medium brown to a beautiful spectrum of blonde shades. Using Wella Professionals' new Blondor collection to achieve the palest of blondes, along with the gorgeous palette of naturals in both the Koleston Perfect permanent and Color Touch demi-permanent collections, the range reflects beautiful dimension in a variety of hues. Extensions are naturally woven in to soften the look by placing the paler pieces in the front where sun would naturally lighten hair. Color provides the polished youthfulness that perfects the overall look.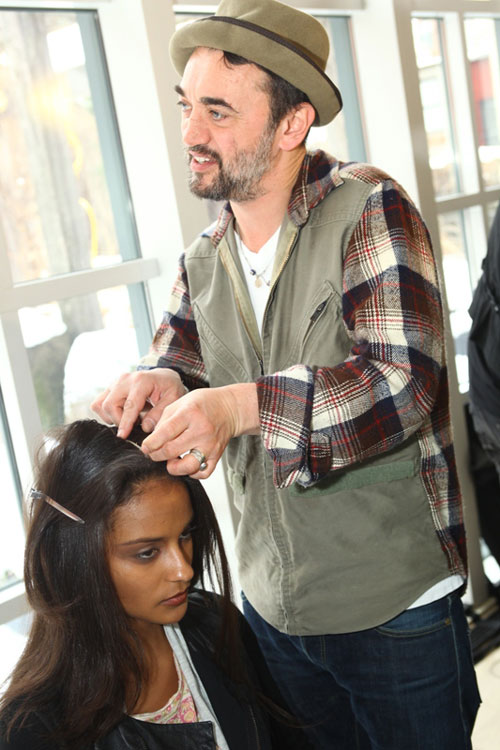 Hair Styling by: Eugene Souleiman, Global Creative Director for Wella Professionals
Hair Color by: Eva Scrivo for Wella Professionals
Hair products supplied by Wella System Professional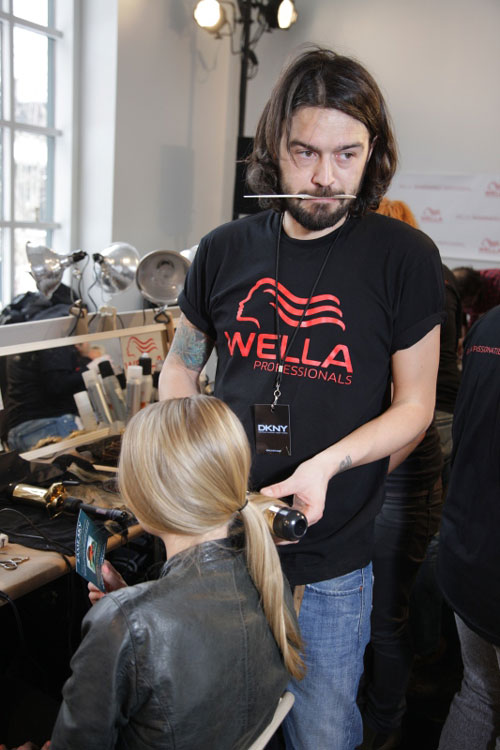 Step-by-Step Styling hair tutorial:
1. Prepare damp hair with System Professional Volumagic and blow dry with a large round brush, creating a soft wave and giving direction for the side part.
2. Rake hands through hair to loosen the waves, pulling to the side of the part and fasten the low side ponytail.
3. Leave hair on the opposite side of the ponytail loose around the face to balance the asymmetry of the look.
4. Lightly smooth System Professional Hypercurl on the length of the ponytail for separation and added texture.
Hot Products: Provided by System Professional
System Professional Volumagic: Natural hold styling foam for long-lasting volume (SRP: $16)
System Professional Hypercurl: Provides texture and definition to curl patterns (SRP: $18)