ENESSA'S New Organic Shea Body Souffle features African Shea Butter with natural nutty scent, citrus oils & no artificial colors or preservatives, moisturizing dehydrated CHAPPED skin in cold dry weather.
I like to use the ENESSA Organic Shea Body Souffle on small areas at the time such as my legs, elbows and feet. It smells a bit like citrus and clean. And my skin keeps super soft for hours.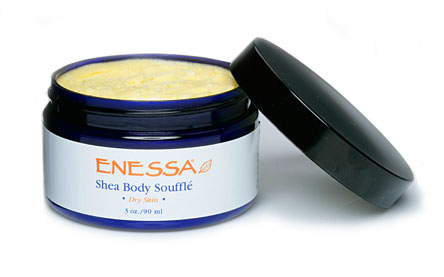 More about ENESSA Organic Shea Body Souffle: A moisturizer that has that feels like velvety smooth butter with colorful textured grains, the new Shea Body Souffle by Enessa is a luxurious blend of organic oils that richly moisturize dehydrated, chapped skin in cold or dry climates.
"Our organic Shea Body Souffle differs from the many shea butter products available to consumers because we use all natural, unrefined African shea butter with certified organic coconut oil, which is rich in essential fatty acids and vitamins and help heal and nourish the skin," states Enessa Skincare founder Michelle Ornstein. "This unrefined Shea butter is manufactured under fair trade and organic guidelines. This means it is not extracted using hexane or other chemicals, bleached, or deodorized, and we do not add preservatives, yellow coloring agents–natural or artificial–or other additives. We bring it to you fresh in its purest and most natural state, which is why it has a beigish, light brown color." The shea nuts come from wild shea trees over a vast area in central and northern Togo, a West African country located between Ghana and Benin, where cooperative members use centuries old extraction techniques to produce this truly exceptional quality shea butter.
"Like all premium unrefined shea butters, it has a characteristic nutty scent, which disappears after a few minutes when rubbed on skin," adds Ornstein, who recommends it for moisturizing hands, feet, cuticles, and any other rough spots such as the elbows, heels and feet. "Unrefined shea butter is a very versatile active ingredient for skin and hair care products, and has excellent anti-aging, soothing and moisturizing properties."
Other ingredients in this delicious body moisturizer include: Vitamin E and organic red palm oil, which together render the smooth velvety texture, helping to regenerate the skin; and a refreshing citrus blend of mandarin, petitgrain, and litsea cubeba essential oils, which calm and sooth the skin, while invigorating the senses.
Available in a 3 oz. Jar, the product retails for $35.50 online at www.enessa.com . A similar version of this Shea Body Souffle is available specifically for babies. It can also be ordered via toll-free number at (888) 4-ENESSA. The complete Enessa skincare line includes facial cleansers, organic hydrosols, organic facial nourishments, seaweed nourishing gels, exfoliant and facial masks, anti-aging products and special treatments.