Estee Lauder Introduces Time Zone Wrinkle Reducing Moisturizers inspired by the science of Sirtuin Activation with Innovative Tri-Hyaluronic Technology for proven visible skin age reversal.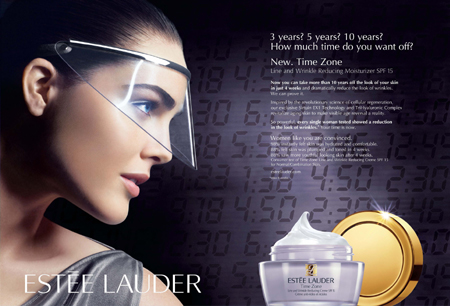 Estée Lauder breaks new ground in skincare science by re-inventing the anti-wrinkle moisturizer to significantly defy aging. Introducing NEW TIME ZONE LINE AND WRINKLE REDUCING MOISTURIZERS, the first moisturizer to target and measurably reduce the appearance of lines and wrinkles and reverse away the years by helping skin behave in a younger way.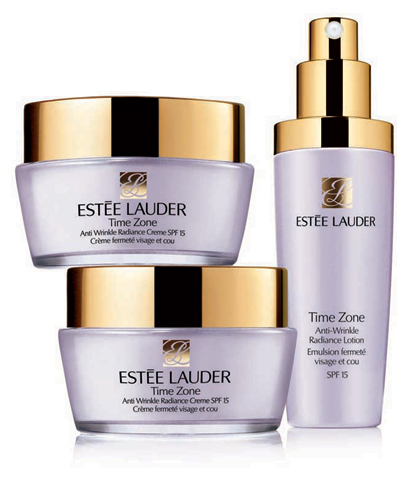 Inspired by the revolutionary science of cellular regeneration, Estée Lauder's exclusive Sirtuin EX-1 Technology and Tri-Hyaluronic Complex work in synergy to create an optimal environment to reverse skin's perceived (visible) age while also optimizing skin's behavior. So skin not only looks younger, but behaves younger too.
Unprecedented Age Measurement Study:
Did you know there's a lot you don't see about how your skin ages? In order to better understand what causes skin to prematurely age and aim to visibly reverse it, Estée Lauder conducted an unprecedented five year Age Measurement Study on hundreds of different women aged 20-70. The initial research, conducted in New York and Belgium, included the comprehensive evaluation of 77 "aging markers" which were then narrowed down to a final list of more significant markers, measured through a combination of visual and non-visual clinical assessments, bioinstrumentation and biological testing.

This revolutionary study allowed Estée Lauder scientists to quantitatively evaluate — for the first time with three different approaches — the impact of the factors that affect the way skin looks and behaves. As a result, they were able to not only identify patterns of aging, but also develop new targeted technologies to address the key anti-aging concerns of women.
The study identified that the following factors most contribute to the aging of women: 65% of premature skin aging in the overall age group of 20-70, is made up of visible markers such as lines, wrinkles, age spots, firmness and texture. Within the 30-55 age group, lines and wrinkles contribute to 48% of a woman's perceived age, making it the single greatest factor in skin aging.
35% of premature skin aging in the overall age group of 20-70, is due to non-visible changes in the skin's behavior such as moisturization, impact of glycation and the loss of natural cell renewal capacity.
Applying these findings, Estée Lauder developed Time Zone Line and Wrinkle Reducing Moisturizers to target these key markers and allow skin to appear and behave younger.
A Light, Modern Scent:
Time Zone Line and Wrinkle Reducing Moisturizers are lightly scented with a radiant blend of fresh notes of pear and lemon, followed by a modern floral accord of cherry blossom, peony and lily finished with sheer musk, blonde woods and creamy sandalwood. Timeless yet modern, this delicate scent has universal appeal.
Dermatologist and ophthalmologist-tested, Time Zone Line and Wrinkle Reducing Moisturizers can be used in combination with Perfectionist [CP+] and Advanced Night Repair for maximum wrinkle reducing results. Apply Perfectionist [CP+] AM and Advanced Night Repair PM on clean skin before applying Time Zone Line and Wrinkle Reducing Moisturizers.
TIME ZONE Line and Wrinkle Reducing Moisturizers arrive at Estée Lauder counters and at esteelauder.com  in December 2008.
SPF 15 Creme for Dry Skin: Suggested Retail Price: $58.00
SPF 15 Creme for Normal/Combination Skin: Suggested Retail Price: $58.00
SPF 15 Lotion for Normal/Combination Skin: Suggested Retail Price: $58.00