Faith Hill's new perfume is scheduled to launch in October 2009 in coolobrotaion with Coty Inc.
"I'm pretty picky when it comes to fragrance — I don't wear a lot of it, and I haven't worn a lot in the past. I wanted to be able to create this scent, to be involved with the lab, choosing the notes, and everything. Talk about an awakening as to how it's all put together — the subtlety and difference that one drop can make. I wanted it to be clean and sensual, but last for a long time."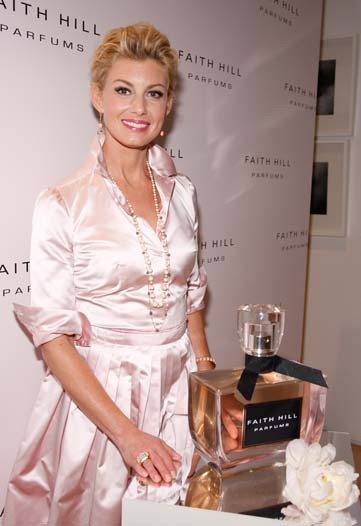 Faith Hill
Photo by John Aquino
Hill said she usually has worn lotion in the past and noted Narciso Rodriguez Musk and Jo Malone's Red Roses body lotion have been favorites for years-"My children [daughters Audrey, Gracie and Maggie] have commented over the years — 'Oh, Mom, the bed or sweater or whatever smells just like you.' That's the feeling I was after…"
Hill had some advance experience in creating a fragrance — her husband, Tim McGraw, launched his eponymous first fragrance late last August, and he gave his wife credit for helping to make it a success.
Read full article at wwd.com