Who is better to ask what's hot when it comes to hair this fall other than the hair stylists who spend their time doing hair for the runway, ghd Ambassadors: Omar Lopez, Craig Carter, and Andy Bodine.
ghd Ambassadors Omar Lopez, Craig Carter, Andy Bodine, were kind enough to share with Talking Makeup their take on Fall Hair Trends:
From Omar Lopez, ghd Media Ambassador: Movement Is Back with Curling Just The Ends
Movement is back in, but this season, the focus is all on curling just the ends of the hair which is simple and sleek and easy to do. Prep the hair with ghd fat hair lotion and blowdry. The product is heat activated and works the same way mascara does on lashes, using rayon micro fibers to pump up each strand. Play up overall volume by applying from roots to ends, then follow with a little more on just the ends of the hair. This will plump up ends and allow for long lasting fat curls.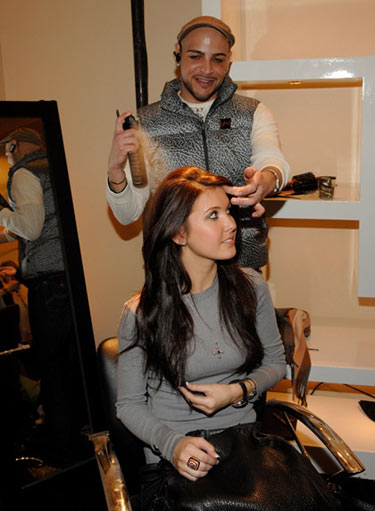 Omar Lopez styling Audrina Patridge
Use the ghd IV styler to straighten the length of the hair, then when you reach the ends, turn the styler 180 degrees to create a slight curl. Finally, use just your fingers to ruffle up the ends to create a slightly tousled look and you have one of the hottest looks for fall!
From Craig Carter, ghd Creative Ambassador: Sleek Straight Ponytails With Natural Shine
Sleek straight ponytails are back with a new, natural shine and the ghd IV styler is perfect for getting your hair silky straight before you pull it back for this hot new and easy trend. For extra shine, don't forget the ghd shining serum, which brings out the glamour and sophistication of the sleek straight ponytail. Use just two drops, rub between palms, apply to your ponytail and your style will sizzle.

Craig Carter busy styling
From Andy Bodine, ghd Artistic Ambassador: Classic Feminine Looks
This fall is all about classic, feminine looks with a hint of glamour and sophistication (think 1940's icons like Rita Hayworth and Ginger Rogers coupled together with a modern day Gwen Stefani). I think we'll be seeing heavy side parts with a palm wave in the front, pulled back away from the face on the sides with the back either soft and curly, rolled up in a chignon or put into a ponytail.

Andy Bodine
To get the look, use ghd obedience cream before blow-drying for maximum volume and shine. Next, use the ghd salon styler which has 2″ plates and is perfect for creating a large wave on top, smoothing the sides and creating glamorous loose curls in the back. Direct hair away from your face with your fingers and finish with ghd ultimate hairspray. The 1940's never looked so good!!
Omar Lopez interview with Marta Walsh
Andy Bodine for ghd backsfatge interview with Marta Walsh at Kevan Hall LA Fashion