Brown Hair Color. Say goodbye to summer's sun-kissed hues and welcome fall with a new, darker look. Fall's hottest television starlets are sporting luscious brunette locks and we have the products that can help you embrace a darker look, right in the comfort of your home. From chocolate browns to multi-dimensional shades, actresses like Zooey Deschanel, Christina Ricci and Minka Kelly are setting the tone for a season of brunettes.
Most Wanted Chocolate Brown: Zooey Deschanel ("New Girl").

Get the look: Kelly Van Gogh MASTER BLEND Multi-Dimensional Luxury Hair Colour Kit
A new chapter and fresh calls for fresh, attention-grabbing hair. Be the 'new girl' that turns heads with Master Blend, a sophisticated at-home all over hair colour system that allows you to leave the salon and never look back. Kelly's proprietary cold pressed caviar oil delivery system is rich in omega-3 fatty acids, vitamin A, C, and D, and amino acids. Combined with amino acids and keratin proteins, the formula also replenishes weakened hair fibers and stimulates collagen growth needed to grow and strengthen hair. Available in ten shades, the hair colour delivers 100% gray coverage with an ammonia alternative, MEA, which is very gentle on the hair. The MASTER BLEND Multi-Dimensional Luxury Hair Colour kit is simple and easy to use for a goof-proof application. The result is glossy, healthy hair with a beautiful and youthful shine. PRICE: $49 and available at kellyvangogh.com
Most Wanted Neutral Brown: Kat Denning ("2 Broke Girls"). Get the look: L'Oréal Paris Superior Preference in Shade 5, Medium Brown.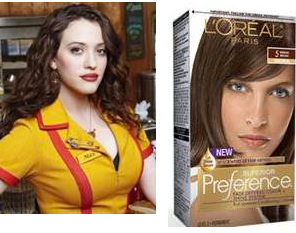 Being broke should never stop you from achieving brunette dreams – Kat's rich brown look can be yours for less than $10. Recognized by consumers as the "Gold Standard" in haircolor since its launch in 1973, Superior Preference continues to earn its reputation by leading the way with technological innovations and answering the needs of the millions of women who color their hair at home. With its Optimized Fade Defying System, a combination of advanced color formulations, applicator tip and generous dose of color saving conditioner, Superior Preference delivers beautiful hair color results. Price: $9.49, Available at www.lorealparis.com and chain drug, food and mass market retailers nationwide.
Most Wanted Multi-Dimensional Brunette: Minka Kelly ("Charlie's Angels"). Get the look: Kelly Van Gogh Luxury Highlighting Kit.
Beautiful, multi-dimensional hair can be a girl's deadliest weapon…distract the enemy with luscious and radiant locks that capture everyone's attention. This one box contains everything you need for that perfect head of highlights worthy of an Angel, no detective's degree required. The high quality at-home hair highlighting system is designed to guarantee, goof-proof highlights in the privacy of your own home. Stocked with professional-grade tools, this environmentally (and economically) friendly kit allows you to work some magic, then clean and reuse. Apply the developer, watch your highlights blossom through the translucent formula, then immediately stop with the deactivator when you reach your desired look with the included WONDERLUST tonic, exclusively from Kelly Van Gogh. PRICE: $49 and available at kellyvangogh.com
Most Wanted Black/Brown: Christina Ricci ("Pan Am"). Get the look: L'Oréal Paris Féria Midnight Collection in Shade M33, Natural Soft Black Midnight Sky.
Jet set this fall with a midnight brown or light black shade like Christina Ricci's. Féria introduces the new Midnight Collection to reinvent black hair color by revealing the nuances and undertones of this iconic, seductive shade. Custom-blended by master colorists, each shade shimmers with its own unique highlights and combines delicate tones and hints of tint to be visible, even on the darkest hair. Price: $9.99, Available at www.lorealparis.com and chain drug, food and mass market retailers