Lately I feel as if I'm digging into the history of Beverly Hills and its world of celebrity beauty and glamour. Few weeks ago I interviewed celebrity hairdresser and image maker Allen Edwards who is famous for creating Farrah Fawcett's haircut aka The Farrah. Allen also began his career in Beverly Hills. I also got the chance to interview Greta the founder of Beverly Hills' longest standing boutique GRETA. Located at 141 S. Beverly Drive a very strategic location I must add, the GRETA Boutique attracted many celebrities since 1961. Think: Zsa Zsa Gabor, Barbara Sinatra, and Shirley Fonda just to name a few.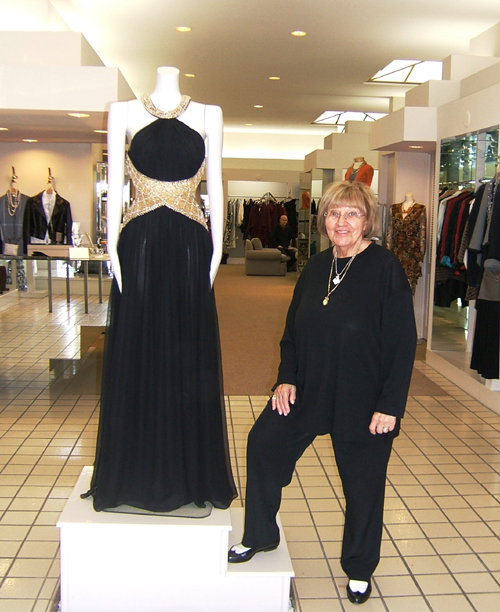 Greta founder of GRETA Boutique
In this interview Greta talks to Marta Walsh about her beginnings in fashion and her meeting with fashion designers Jill Sander and Gianni Versace. The celebrities she got to dress over the years and how she manages to honor the history and legacy of GRETA Boutique and also adapting to new times. And of course, future plans. 
Marta Walsh: Of all the 48 years in business, what were some of the most memorable moments of fashion in your career?
Greta: My very first buying trip to Europe was one of my first memories in my career. On this trip I met Jill Sander and Gianni Versace. Gianni was designing for Genny Byblos at the time and I went to his runway show in Milan. The show was so breathtaking that I felt like I was walking on cloud nine for the rest of the day. This is when I knew fashion would be an inspiration on my life forever.

Model wearing an outfit by Sachin + Babi Resort 2010 availabe at GRETA Boutique.
For Resort 2010, Sachin + Babi for Ankasa is all about "shine". This season's woman
is ultra chic, sleek and modern. Every piece is luxe yet airy and effortless, and cut in
silhouettes that translate easily from day to night.
MW: What are some of the most memorable/landmark moments in the history of you store?
G: Some of my most special moments started with finding this perfect space on S Beverly Drive in December 1961, having just moved here from Minnesota with the help of my loving mother. In the past 48 years, I have been honored to dress some of the most fabulous personalities including Kim Novak, Zsa Zsa Gabor, Barbara Sinatra, Shirley Fonda, Barbara Bain and Joanie Crosby to name a few. My most recent accomplishment was receiving the "Certificate of Recognition" by the Beverly Hills City Council on the occasion on my 48th year in business…and counting!
MW: Was there a particular decade or style that you favor in your career as a retailer?
G: I always loved the style of Gianni Versace and his creations in the 80's created a lot of buzz in my store. But to be honest, I'm always forward looking and excited about what's next…and what great new designers I will discover.

Model in Sachin + Babi Resort 2010: "Jada Top" – lamee racer-back tank with antique
silver bead and chain embroidery at neck and down shoulder – $425
"Brandi Pant" – Italian ramie drawstring pant with antique silver bead detail at pocket – $300
MW: How are you honoring the history and legacy of GRETA Boutique and also adapting to today's retail environment?
G: I will always honor the legacy of my store by designing couture collections for my clients, with the help of my collaborator and friend, Alvaro, who worked for James Galanos until 1998. However I will also continue to scout the market for new ready-to-wear designers, like Sachin + Babi that are making footprints on the fashion world today.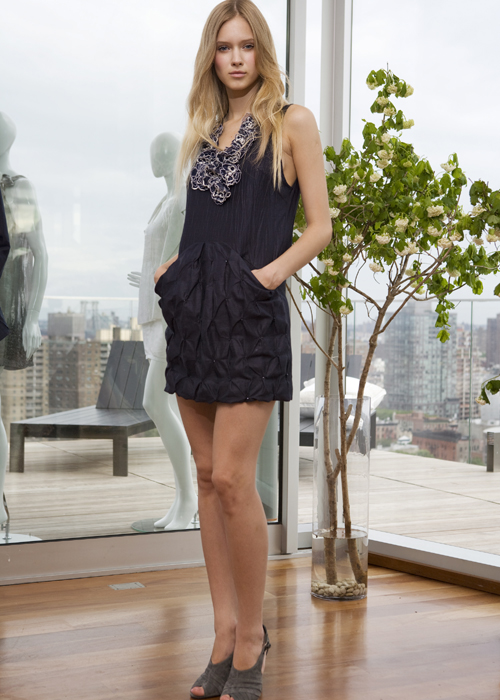 Model in a dress by Sachin + Babi
MW: What are your plans for the future?
G: I want to continue doing exactly what I'm doing…helping to make my clients feel beautiful, confident and impeccably dressed.
I would like to thank Greta for her brilliant interview!
To learn more about Sachin and Babi Ahluwalia visit their website: www.ankasa.com
Miss Teen California Chelsea Gilligan at the GRETA Beverly Hills Boutique
GRETA Beverly Hills' longest lasting boutique