I'm excited to share with you my interview with Leigh Lezark who is Karl Lagerfeld's muse and is one of CHANEL's brand ambassadors. In addition, Lezark is music's "it" girl and the one-third of the New York City-based DJ trio The Misshapes. You might also know Leigh for her modeling particularly from a GAP ad wearing their classic leather jacket. Recently, Leigh who is a long-time fan of Matthew Williamson's designs, wears a limited edition kaftan Williamson has designed celebrating Belvedere Vodka's exciting new flavor, Pink Grapefruit. Leigh, one of New York City's most influential music and fashion muses, will model the print for the first time at the launch party for Pink Grapefruit this month.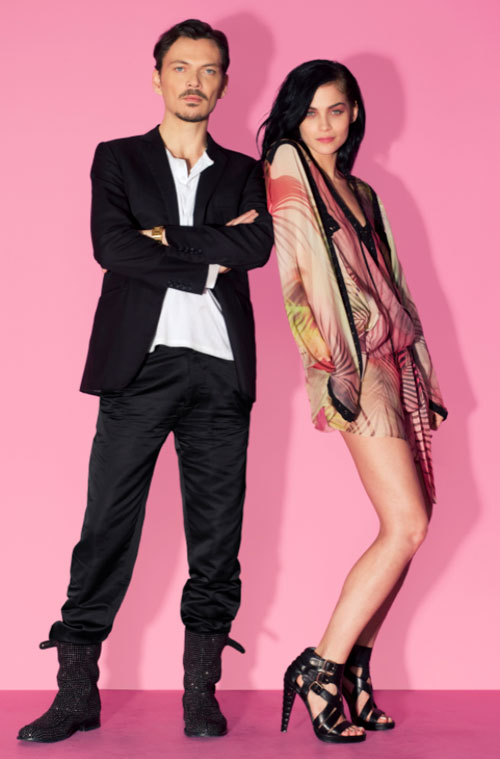 L to R: Fashion Designer Matthew Williamson and Leigh Lezark wearing Matthew Williamson for Belvedere Pink Grapefruit Limited Edition Kaftan. Price: $1060. Available at Matthew Williamson boutiques and www.matthewwilliamson.com/shop.
In this interview Leigh Lezark talks to Marta Walsh about her love for music. The Misshapes. Her modeling experience. What really inspires her. What's in her makeup bag, style, and future plans.
Marta Walsh: Where do you call home?
Leigh Lezark: New York City
MW: What were some of your first memories of falling in love and greatly interested with music?
LL: My parents had the Doors L.A. Woman on cassette, I wouldn't let us drive anywhere without listening to it.
MW: What were some of your big breaks as a model?
LL: I've been able to work with a lot of amazing people, from modeling some of Matthew Williamson's designs, to being shot by Steven Meisel to working with Karl Lagerfeld.
MW: What life lessons have you learned from you career as a model?
LL: I'd say I've learned more from DJ'ing than modeling as music is my first love, it's essential to be confident in whatever you're doing and the rest will come naturally.
MW: How did your involvement with The Misshapes come about? What do you love most about DJ-ing?
LL: I met my 2 DJ partners Greg and Geordon at Don Hills, the club where we later threw Misshapes. The party started because at the time we were bored with the nightlife in NY so we decided to throw a party that not only our friends would want to be at but we would want to be there ourselves.

New York City-based DJ trio The Misshapes. L to R: Geordon Nicol, Leigh Lezark and Greg Krelenstein
MW: What and who inspires you?
LL: My friends
MW: How would describe your own personal style and what's your philosophy about beauty?
LL: I wouldn't describe my style as one set thing, it's ever changing. My philosophy on beauty is less is more.
MW: What was the first film you've ever watched on a date?
LL: The first movie I can remember going to on a date was Clueless
MW: What's in your makeup bag?
LL: Mac black eyeliner, mascara, tinted moisturizers, Chanel eye gloss
MW: What one or two things some people may not know about you?
LL: My hair is naturally very blonde.
MW: What's next for you?
LL: My suitcase. I'm going to St Tropez this weekend for resort and next weekend I'll be in Cannes for work.
I would like to thank Leigh Lezark for a brilliant interview. You truly rock! xo
Matthew Williamson for Belvedere Vodka