Fekkai Melrose Place Salon RE-OPENING: Frédéric Fekkai Melrose Place Salon doors will open tomorrow, October 14th to a newly upgraded and expanded space, which has become the brand's official West Coast Flagship.
Frédéric Fekkai, whose name is synonymous with sophistication and style, announced today that he will name the Melrose Place Salon the official West Coast based flagship Fekkai salon.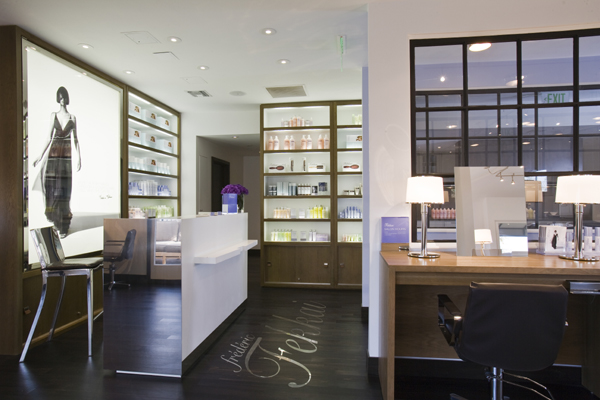 Located at 8457 Melrose Place, this newly expanded 2,400 square foot space will provide an intimate luxury retreat. After undergoing renovations and an expansion, the Melrose Place Salon will now operate on both floors of its current location with the addition of a ground floor retail environment. The renovation includes an expansion of the salon service area, shampoo stations and private pedicure rooms, bringing the total number of service chairs to sixteen.
Residing within a Spanish-mission style building, the salon will offer clients a sunny, relaxing oasis to experience the exquisite cuts and luxurious, high-end services that Fekkai is famous for, including hair styling and coloring, manicure, pedicure, bridal services, brow grooming and make-up application. Clients will have the option of visiting the salon six days a week, allowing them to easily schedule appointments that cater to the demands of their on-the-go lifestyles.
The reopening of the Melrose Place salon allows the Fekkai brand the opportunity to consolidate its locations, while adding valuable ground floor exposure. The new space also lends itself as a more attractive event venue facilitating opportunities for cross promotions with local businesses.
The re-opening of the Melrose Place salon marks a move by Fekkai towards a more consistent representation of the luxury brand equity he has become known for. "The reopening of the salon will allow us to bring an improved luxury experience to our clients. Melrose Place continues to be at the center of one of the most fashionable districts in Los Angeles and we are delighted to remain a part of that community," says Frédéric Fekkai, Founder & President of Frédéric Fekkai & Co.
The salon's layout is designed with open style and color studios in a warm, loft-like setting with dark brown leather banquette seating, soft silk pillows and sophisticated polished-nickel table lamps for a modern look and feel. A generous outdoor terrace lined with banquette seating will allow clients to enjoy manicures and pedicures "al fresco" while sipping beverages or nibbling on a delicious lunch. The shampoo area is cordoned off from the main space to provide an intimate, soothing setting with state-of-the-art chairs to provide the utmost comfort.
Frédéric Fekkai Melrose Place opens to the public on October 14, 2009.
About Frédéric Fekkai & Co.: Frédéric Fekkai & Co. is the leader in luxury hair care, offering a complete range of innovative products and exclusive, full-service salons. The Company is dedicated to providing total beauty and creating a unique portrait of style for each individual. Fekkai products are distributed through the finest beauty retailers around the world and, of course, in the world famous Frédéric Fekkai Salons. For more information visit: www.fekkai.com