Hot Hair Styling Tools: Hairdryer. The Black Eyed Peas' tour has been a smash worldwide and Fergie's beautiful costumes and on-stage hair looks have been getting rave reviews. Jason Medina is her longtime stylist and masterfully creates the fast-paced hairstyle changes required between sets, during concerts and throughout the tour. Among the styling essentials which have been spotted in his tool kit is the Velecta Paramount Paris x:Q Onyx hairdryer, which has now become a fast favorite among top red carpet and editorial stylists.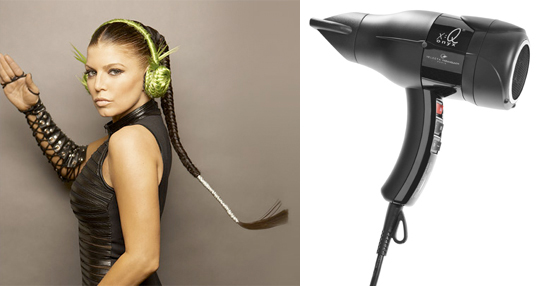 L to R: Fergie image via fergie.blackeyedpeas.com and Velecta Paramount Paris x:Q Onyx hairdryer the secret to Fergie's hair on tour
Asked for his comments, Medina says, "I love this dryer! I even ordered EU versions for our European tour since I didn't want to be without it. Speed is really important to me backstage because there's so little time to get Fergie ready after a quick costume change between sections of the show. The Velecta Paramount Paris dryer works faster than anything else I've used, and believe me I've tried everything. It's not only powerful and lightweight, it's ergonomic and compact, which is great when we travel. I also like the fact that it's low EMF."
The model Jason Medina uses is the super-light Velecta Paramount Paris x:Q Onyx (hand-made in France) which delivers 2000 watts of power while radically reducing noise pollution. It features a remarkable airspeed of 81 mph, 60% faster drying time, and has the finest tourmaline and ceramic components available for negative ions and far infrared heat. It incorporates patented ergonomics to reduce stress on shoulders, wrists and elbows and has an energy-efficient, turbo charged, low EMF motor. Velecta Paramount Paris is considered the finest line of luxury professional hair dryers in the world, and is the industry originator and global leader in noise reduction technology, faster drying speed and healthier hairdryers.
Velecta Paramount, founded in 1936, is France's oldest and most respected maker of hairstyling tools, with each hair dryer carefully made by hand by the same specialist — unique in the industry.
For more details go to velecta-paramount.com. The Velecta Paramount Paris x:Q Onyx can be purchased at selected professional salons and spas in the US as well as through www.beechergroup.com.