Taylor Lautner, promoting Eclipse on the cover of the GQ July 2010 issue, looks effortlessly cool with a relaxed, perfectly "undone" hair style. Iconic hairstylist Oribe shares insider tips for how he added texture and style to Taylor's hair for his hot cover look. "This style is all about building cool texture," says Oribe. "This combination of products makes the hair moldable, not hard."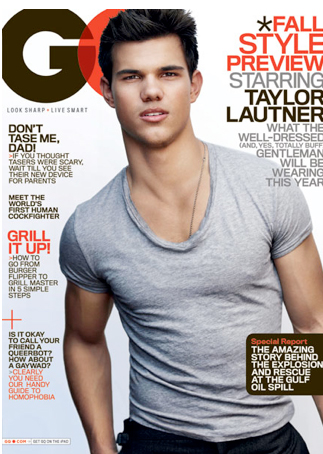 1. First, Oribe gave Taylor a slight trim to help his "heavy" hair texture work well with products.
2. Starting with wet hair, Oribe combed through Original Pomade for control, volume and shine.

Original Pomade by Oribe Hair Care
3. He added Rock Hard Gel for flexible hold.
4. Oribe finished with Rough Luxury for more hold, with softness and separation.
5. When necessary, he combed just the front of Taylor's hair to vary the look.
Available at www.oribe.com