Giorgio Armani Beauty introduces its latest foray in skincare – Crema Nera OMC³. Inspired by the black obsidian stone that gives life and strength to the rich soil of the island of Pantelleria, the Cream Nera skin care line regenerates and revitalizes the skin.
Celebrity Face Designer Tim Quinn advises his clients to protect their skin everyday, "I always recommend using a product with SPF beneath your makeup. The Crema Nera OMC³ is perfect because of the lightweight texture, which hydrates perfectly without smothering the skin, allowing the makeup to look flawless while protecting the skin from the sun's damaging rays."
As fans of the line, Camilla Belle, Sophia Bush, Michelle Tractenberg, and America Ferrera may certainly consider including this new must-have face cream in their makeup bags – not only for vacationing, but for everyday use! Whether under makeup or under the sun, OMC³'s nourishingly rich texture is lightweight and fresh, protecting skin from both UVA and UVB rays.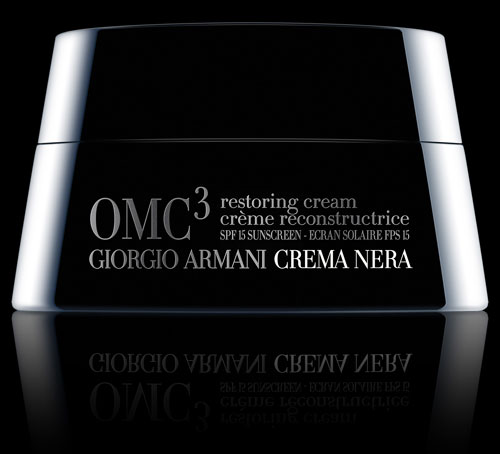 In search of its powerful vital energy, researches studied the composition of obsidian and created the Obsidian Mineral Complex, a patented blend of four minerals – Iron, Silicon, Sodium and Potassium – naturally present in obsidian. When combined, these three ingredients form a powerful dermal restructuring system – a new-generation anti-aging technology to restore the very substance of the skin. To fight even more effectively against the aging of mature skin that is particularly vulnerable to the loss of substance, slackening of features and deepening of wrinkles, researchers developed the Obsidian Mineral Complex³ with a potent trio of anti-aging active ingredients. The Obsidian Mineral Complex³, Pro-Xylane and Hyaluronic Acid compliment each other to reveal denser, firmer, and more moisturized and replumed skin.
Crema Nera OMC³ has a suggested retail price of $185.
It will be available at fine department stores next month, September 2009, including Saks Fifth Avenue, Neiman Marcus, Bloomindales and Barney's.