Givenchy's Artistic Director, Nicolas Degennes, imagined a "Romantique" mood when he created the makeup collection for Autumn 2009.
The dominant theme is vivid pink, a translucent, shimmery version that elevates the girly tone to an utterly chic and decidedly elegant effect, contrasted with shades of grey, beige and gold. A fresh, natural complexion recieves a texure contrast with uber-glossy lips and shimmery eyes. This dichotomy is also reflected in the striking packaging. Classic black cases are accented with the collection's signature pink tone and metallic silver touches. The final result is simintounsly modern and timeless.

Prismissime Eyes 9-Colors Eyeshadow – Poetique Blues, $53
Prismissime Eyes 9-Colors Eyeshadow – Poetique Browns, $53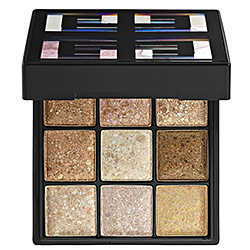 Gloss Poetique Natural Color-Enhancer Lip Gloss Poetique Rose, $45
Phenomen'Eyes Poetique Grey Lavender, $28
Parad'Eyes Liner Poetique Lavender (violet blue), $27
Rouge Interdit Satin Lipstick Poetique Iris, $27
Rouge Interdit Shine Lipstick 23 Poetique Camelia, $27
The Les Poetiques Collection is limited-edition and available at Sephora and Sephora.com
Nicolas Degennes Interview With Marta Walsh
About the Author
I am one of the top fashion and beauty bloggers in the world also a Luxury Paradise Valley and Scottsdale REALTOR with Russ Lyon Sotheby's International Realty.