Spring/Summer 2010 Hair Trends by Guido for Redken
NEW ROMANCE
"This season we're seeing so many different directions in terms of hair trends, but one thing that stands out is the idea of 'urban romance.' It's not romantic hair in the usual sense, not down and free-flowing—it's more for the city woman. Shapes have an edge, and it's worn up in a ponytail or a knot."

FRESH TEXTURES
"We can never say never in hair. We have to look at everything with new eyes, and take elements from all genres and eras. We can create every texture from natural to dramatic."
SHOWCASE STYLE
"Some of the runway hairstyles we saw this season were very extreme, couture styles—they're not necessarily looks you'd wear on the street. These looks are fantasies, and they make for a great show. Salons can reinvent and reinterpret them for their clients."—Guido, Redken Creative Consultant
URBAN ROMANCE: Up or down, the new romantic looks have a more defined shape, with a grittier, slightly disheveled feel.
AS SEEN AT: Alexander Wang • Bottega Veneta • Chloé • Miu Miu • Moschino • Nina Ricci • PHI • Philosophy by Alberta Ferretti • Prada • Sonia Rykiel • Versace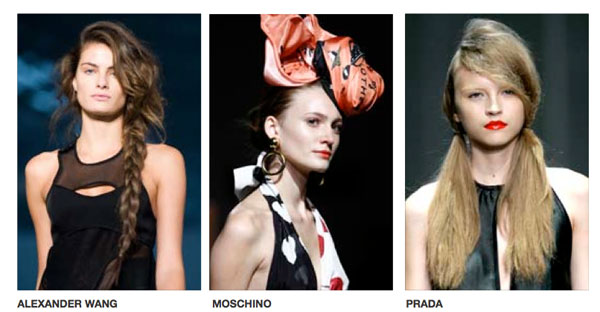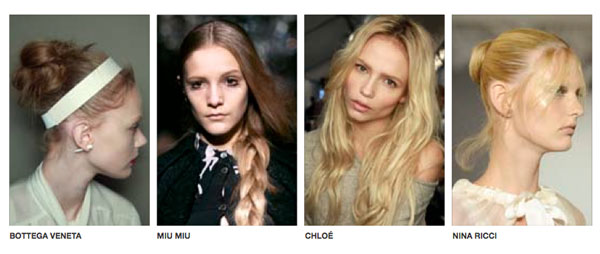 TiPS:
• The tousled braid seen at Alexander Wang goes perfectly with the designer's modern take on American sportswear. To create it, apply full frame 07 protective volumizing mousse, rough dry and swoop hair over one eye. Braid hair, letting the braid fall over your shoulder, and pull out pieces to soften the look.
• Pigtails—a schoolgirl staple—got a grown-up update at Prada. To get the look, apply blown away 09 protective blow- dry lotion and blow-dry. Backcomb hair at the crown, create a low side-part, and pull hair into pigtails. Tousle with your fingers for a disheveled finish.
• At Moschino and Bottega Veneta, ladylike accessories like hats and headbands contrasted perfectly with tousled locks. Apply thickening lotion 06 body builder to damp hair and air-dry to bring out natural texture, pull hair into a low ponytail or knot, then add your accessory.
PAST PERFECT: Iconic styles of the past get a fresh interpretation, courtesy of modern products, unexpected textures and creative interpretation.
AS SEEN AT: Jean Paul Gaultier • Lanvin • Luella • Marc by Marc Jacobs • Miu Miu • Nina Ricci • Philosophy by Alberta Ferretti • Versace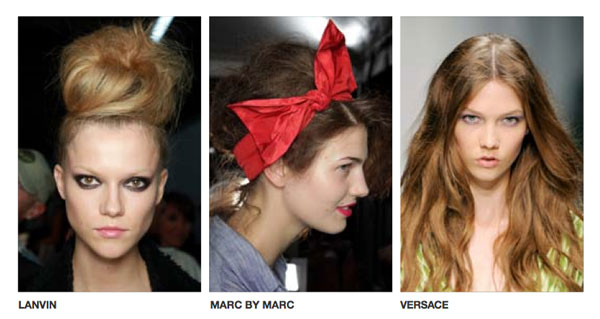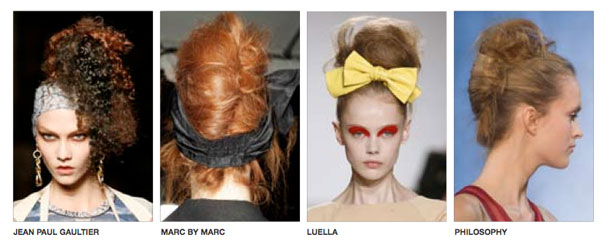 TiPS:
• The Bardot-esque updo seen at Lanvin was a playful reimagining of the classic topknot. Start by creating a high ponytail, then backcomb the tail to add texture. Twirl it into a wide knot and secure with bobby-pins. Mist hair with quick dry 18 instant finishing spray, then layer on vinyl glam 02 mega shine spray to add polish.
• Bows are usually demure, but the larger-than-life versions seen at Marc by Marc Jacobs were cheerfully cheeky. To create this 50s/80s mash-up, hair was blow-dried with aerate 08 bodifying cream-mousse, backcombed and gathered into a French twist. A mist of workforce 09 flexible volumizing spray helped to keep the style in place.
• To create the 70s-inspired waves seen at Versace, start by shampooing and conditioning with All Soft. Blow-dry hair smooth, then curl with a medium-size curling iron to create soft bend. Finger-comb, then apply a small amount of rewind 06 pliable styling paste to add soft separation.
SLICK MOVE: Whether slicked back or sleeked down, wet-look styles lit up runways with polished shine.
AS SEEN AT: Alberta Ferretti • Calvin Klein • Jonathan Saunders • Loewe • Marc Jacobs • Roberto Cavalli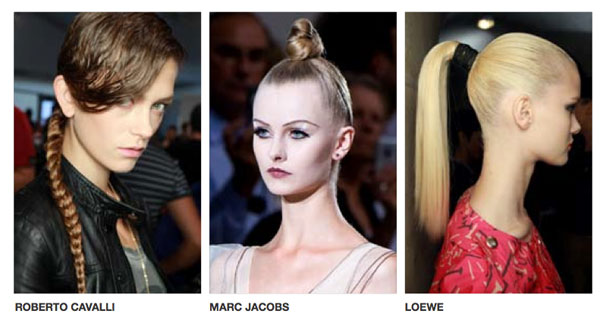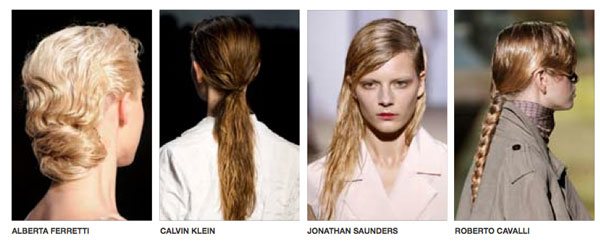 TiPS:
• The classic ballet bun was reinterpreted at Marc Jacobs, where models sported super-sleek topknots. To get the look, apply blown away 09 protective blow-dry gel and blow-dry hair smooth. Apply glass 01 smoothing serum, pull into a high ponytail at the very top of the head, twist into place and bobby-pin.
• Wet-look hair worked perfectly with the menswear-inspired styles seen at Roberto Cavalli. Hair was misted with water, sprayed with hot sets 22 thermal setting mist, and sculpted into a wave over the right eye. The remaining hair was plaited into a low braid and misted with forceful 23 super strength finishing spray.
• It's fitting that leatherwear house Loewe showed sleek, leather-look ponytails on the runway. Guido brushed in hardwear 16 super strong gel, gathered hair in a ponytail, then flat-ironed sections to create a slick finish. For best results with your flat iron, mist on iron silk 07 ultra straightening spray to smooth and protect hair.
EXTREME MEASURES: Impractical? Maybe—but these over-the-top looks offer plenty of inspiration to liven up your hairstyle.
AS SEEN AT: Jean Paul Gaultier • Louis Vuitton • Alexander McQueen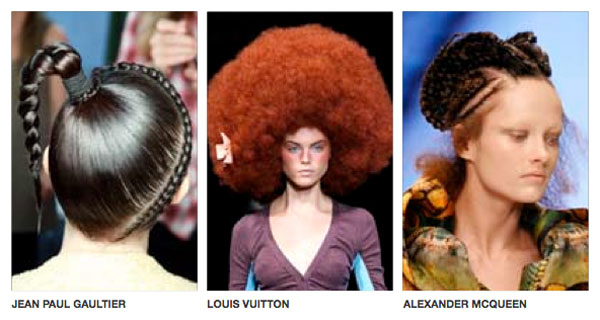 TiPS:
• The attention-demanding wigs at Louis Vuitton captivated the crowd. To give any style dramatic volume and texture, start with Extreme Shampoo and Conditioner to help strengthen hair. Apply guts 10 volume spray foam from roots to ends, then blow-dry. Mist on spray starch 15 versatile ironing spray, curl hair, then backcomb to create uninhibited texture.
• Alien-inspired hair in real life? Of course not. But on the runways—why not? The fin-shaped style seen at Alexander McQueen may be out-of-this-world, but anyone can achieve equally strong control with forceful 23 super strength finishing spray.
• Crimped, braided or corn-rowed, the side-ponytail is a quintessentially 80s look. Play up your ponytail's texture by misting on fabricate 03 heat-active texturizer and blasting with your blow dryer.