Backstage at New York Fashion Week with Eugene Souleiman, Global Creative Director, Wella Professionals creating the Hair Look for Halston A/W  2010.
The Look: Nature's Fall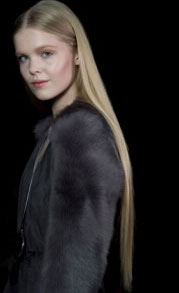 The AW '10 Halston collection utilized classic draping techniques with linear modernity. When creating the hair look for the show, Eugene Souleiman drew inspiration from one of the four of Wella Trend Vision directions, Nature's Goddess. This look portrays a confident, assertive woman by using the enchantment of nature to create a new form of femininity and seduction.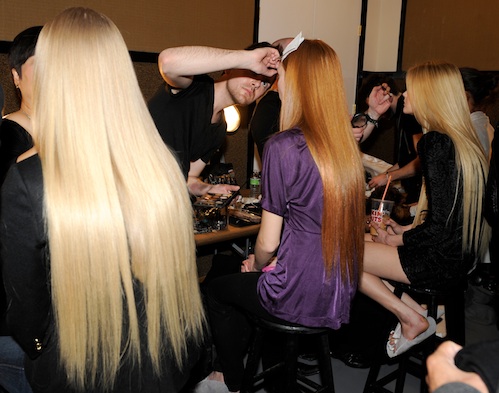 Photo credit: © amber rima mclinn
On the catwalk this translated as perfect, luminescent, supremely long, ultra smooth and immaculately groomed hair. The exaggerated lengths of this modern virginal looking hair contrasted perfectly with the strong sexy silhouette of the Halston collection.
"I wanted to take a classic natural hair look to the extreme to give it an edge. We exaggerated all the elements of the hair from the shine to the length to create a confident and effortless look."
Get the look: Freshly washed hair is treated with System Professional Startup then blow dried from the roots with a large round brush. Hair is then straightened in sections. Finally, spray a finishing spray on to a natural bristle brush which is pulled through hair to smooth down any remaining fine ends.
Products: Wella Professionals Startup