Here are some tips about heat styling by GUIDO Redken's Creative Consultant: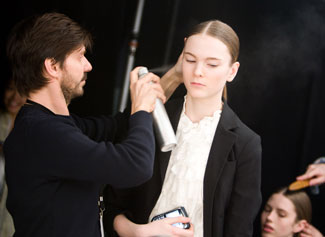 There are so many different sized curling irons-how do I know which one to choose?
It depends on two things. First, you need to decide what size curl you want to create. Second, you have to account for the fact that the curl will loosen throughout the day-you should choose a barrel that's slightly smaller than the size of the curl you want. For loose waves, I find 1-inch curling iron works best. At first the curls might appear a bit too tight, but they'll loosen up perfectly.
How can I prevent flat-ironed hair from looking lifeless?
Apply a heat protectant product like iron silk 07 ultra straightening spray to each section before you flat-iron. Hair that's continually exposed to heat without any protection will end up looking dull, damaged and lifeless. The other trick is to kick the ends out. Just turn your wrist slightly as you're bringing the iron down to the end of the section. It gives you movement and texture, so hair doesn't look so severe.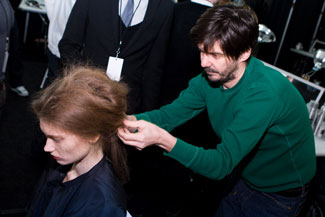 How do you prepare hair for heat styling?
For a blow-dry, apply a heat protectant cream or gel, like blown away 09 protective blow-dry gel, to damp hair and comb it through so it's thoroughly distributed. You want to make sure that your mid-lengths and ends, which are the most prone to damage, are evenly coated. For curling or flat-ironing, mist a heat protectant spray like iron silk 07 ultra straightening spray or spray starch 15 versatile ironing spray on each section (hair should be dry) before you use your hot tool.
What's the right way to use hot rollers?
If you want to add volume and wave, lift your section up, place the roller underneath and roll down toward your scalp. For waves with minimal volume, don't lift the section- just place the roller on top and roll up.
What are the biggest mistakes women make when using hot tools, and how can
you fix them?
Sometimes people think they don't need to prep hair with a heat-protectant product, but it's really an essential step. The product helps to keep your hair healthy and lock in shape. Another thing I notice is that people will curl or flat-iron their hair without making sure the section is combed neatly. If your section is messy, you won't have a good result.