Heidi Klum what's in your beach bag this Memorial Day weekend?
This exactly the question Modelinia.com's asked upermodels, such as: Heidi Klum, Karolina Kurkova, Hilary Rhoda and Brooklyn Decker, just in time for Memorial Day weekend.
Ever wonder what's hiding inside supermodels beach bags for the long holiday weekend?? Or what are supermodels Memorial Day Beach Bag Essentials?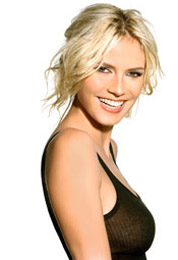 It's Memorial Day weekend, which means summer has officially arrived, complete with beach vacations, relaxing poolside, and barbecues with friends. But before the trips and celebrations begin, packing is the No. 1 priority. If you're stressing about just which suit to buy or what beauty products to pack, Supermodels Heidi Klum, Hilary Rhoda, Karolina Kurkova, and Brooklyn Decker opened up their beach bags to show off their SPF levels, what they're reading, and their iPod playlists, so you can strategize for the long weekend just like them!
WHO: Heidi Klum
BEACH BAG: I like a heavy-duty bag with lots of room for all the things the kids need at the beach.
COVER UP: One of my favorite labels, Thomas Wylde, has a beautiful chiffon cover-up that I wear all the time, and J.Crew cotton sweaters are comfortable and inexpensive.
LOTION: I use In An Instant tinted moisturizer, which has SPF in it.
BOOK: I'm reading Pinkalicious with my daughter, Leni. It's her favorite book!
SUNGLASSES: I like the Chrome Hearts glasses.
WHO: Hilary Rhoda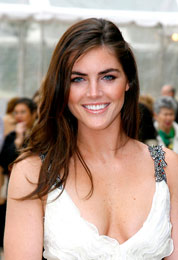 BEFORE THE BEACH: I always use Estée Lauder Bronze Goddess to add a little color.
iPOD: I'm a big fan of Vampire Weekend, so I will probably be listening to that album on the beach.
BIKINI: I love Eres bikinis, they're sexy but comfortable.
NAIL POLISH: I like the whiter nude because it looks great on tan skin.
SUNGLASSES: I have way too many pairs of sunglasses to have a favorite!
COVER UP: I found a cute dress from this boutique Wink in New York that I'll be getting good use out of this summer.
FUN: I always pack a game and some orange slice snacks to go to the beach. It's hilarious to play a few rounds of Scattegories on the beach with friends while listening to music and getting some sun.
 WHO: Karolina Kurkova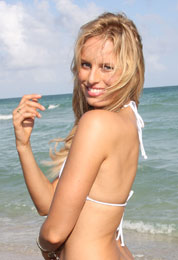 iPOD: The Life Aquatic soundtrack is a must. And I have Claudine Longet "Let's Spend the Night Together" on repeat.
BIKINI: I love bandoo bikinis from Brette Sardler and Missoni prints.
BOOK: What They Don't Teach You at Harvard Business School.
SUNBLOCK: Cosmedix. With an SPF of at least 30.
JEWELRY: Carolina Bucci Lucky bracelets are great for the beach.
SNACKS: Coco Chia Living Fuel bars, sweet pink watermelon and to drink grape flavored Synergy Kombucha tea.
PRODUCT: I must protect my hair. I like Alterna "10″ hair mosque, and rosemary toner for hair from Lakshmi
 WHO: Brooklyn Decker
BIKINI: Zoe swimsuits. They have them in a million different colors and embellishments. Plus they're easy to ball up and throw in your bag.
BOOK: I'm in the middle of reading American Wife right now by Curtis Sittenfeld.
iPHONE: It has my phone, camera, and iPod all in one. Never leaves my side. I love happy, upbeat music during the summer. Dave Matthews Band, O.A.R., Killers, Black Eyed Peas, Avett Brothers. The list really goes on and on.
PRODUCT: I color my hair and I have soooo much of it so I have to take good care of it. Kerastase has a great spray that is basically an SPF for your hair. It also has these natural oils that make the hair texture really soft and wavy. It just protects it from sun, chlorine, etc.
SPF: Neutrogena sunblock. It's really gentle and one of the few that doesn't sting my eyes or clog my skin!
COVER UP: Denim cutoff shorts (I've had my worn-in pair for ages and wear them all the time), a baggy tee/tank, and Birkenstocks! Soooo comfy.
JEWELRY: I have two little studs in my left ear that always stay in, but I don't wear anything more than that. I'd be too paranoid that I would lose it in the ocean! I definitely have sunglasses on me at all times.
SUNGLASSES: Ray-Bans are classic and my favorite.
SNACK: The safest bet is cold water and raw nuts. Neither will melt in the sun and they are healthy!
FUN: Travel Scrabble for sure and a deck of cards. I hang out with the guys a lot, so I've picked up a few card games. (Still haven't learned poker!)
Via: modelina.com