Here is how to get Alicia Keys makeup look at the 2009 AMA's with Mary Kay cosmetics.
Knockout red carpet moments come with hours in the hair and makeup chair. Grammy Award-winning Alicia Keys rocked the American Music Awards showcasing a galactic style dress to go along with her majestic makeup. Longtime makeup artist, Ashunta Sheriff, was able to put together her glamorous look in a mere 40 minutes, proving that beautiful skin and makeup can come easily with the right products. Utilizing many Mark Kay products, Ashunta was able to give Alicia a stand out look to match her exciting dress.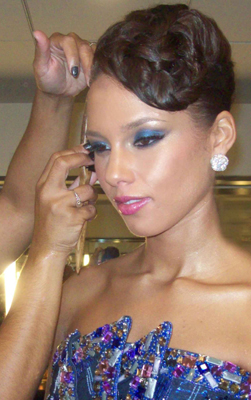 First, to give the skin a fresh, firmed base, Mary Kay's TimeWise Replenishing Serum+C was applied. For awakened eyes, Mary Kay TimeWise Targeted-Action Eye Revitalizer was added. Ashunta then followed up on the eyes with Mary Kay Eye Primer to get them ready for attention grabbing makeup. To give Alicia's skin the look of sheer satin, Ashunta applied Mary Kay Tinted Moisturizer with Sunscreen SPF 20 in Bronze 1 followed by Mary Kay Mineral Pressed Powder in Bronze 1. The finishing touches to Alicia's regal look were made using Mary Kay NouriShine Lip Gloss in Pink Diamonds and Mary Kay Lip Liner in Raspberry for a full luscious lip.