Kay Panabaker, star in the new movie "Fame", made her mark on the red carpet at the movie's LA Premiere! mark celebrity makeup artist Jamie Greenberg explains how she created Kay's gorgeous red carpet look.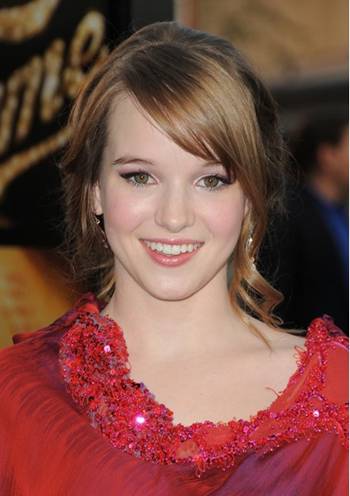 Eyes:  "Kay wore a gorgeous red dress, so we wanted to go glam for her look. For her eyes, I started by applying mark I-Mark Custom Pick Eyeshadow in Biscotti as a wash all over her eye and then smudged mark I-Mark Custom Pick Eyeshadow in Luvstruck in her creases. Next, I added mark I-Mark Custom Pick Eyeshadow in Fairy Dust to her inner corners and a little Plum Velvet on the outside crease. I then lined her top lash line with mark Get In Line Hook Up Waterproof Eyeliner in Violet and then lightly lined her lower lash line with mark Eye Glimmer in Glammed. To finish the eyes, I applied two coats of mark Make It Big Mascara in Raven."
Face: "I started by applying mark Speedway Do Everything Makeup in Ivory to her skin. I then blended mark Get Bright Hook Up Highlighter in Light under her eyes to conceal and highlight above her cheekbones. Then I applied mark Just Pinched Instant Blush Tint in Cheeky to the apples of her cheeks to give her a warm glow, and a touch of mark Glo Xpert in Candle Glo for a highlighting effect."
Lips: "I completed Kaye's look by applying mark Tinted Sheenstick Hook Up Lip Balm in Playful and mark Glow Baby Glow Hook Up Lip Gloss in Pink Crush to her lips."
Visit www.meetmark.com for additional product details.
FAME actress Kay Panabaker interviews with Marta Walsh