Last night was a busy night for many celebrities who attended the Maxim Hot 100 party. I just saw these pics of Khloe Kardashian and her makeup created by celebrity makeup artist and photographer, Troy Jensen. I absolutely love this look! It is SO me, lol:) I also love Khloe's hair, a beautiful shade of brown, blown super straight.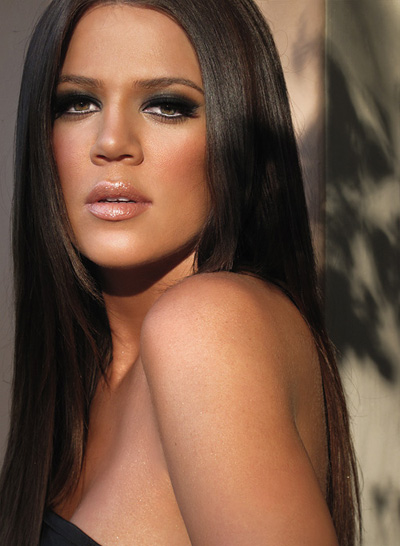 Here is how to get Khloe Kardashian's makeup look at the Maxim Hot 100 party by Troy Jensen!
"As a celebrity makeup artist, it is my job to bring you the latest and the greatest of products, tips, and trends. My friends at Dior sent me some beautiful palettes to play with and when Khloe Kardashian asked me to glam her up for Maxim's Hot 100 Party, it was a perfect opportunity to give her a dramatic eye and radiant glow.
…"The talented Clyde Haygood gave her sexy straight hair and her younger sister Kylie was my trusted makeup assistant, dusting a bronzing shimmer powder all over Khloe's body. Kylie also had several outfit changes while we did Khloe's makeup and that kept us entertained. I hope you've enjoyed the two completely different looks I've created with Khloe this week."-Troy Jensen.
The look…"I blended liquid foundation a few shades warmer than Khloe's natural skin tone to give her a sun-kissed, healthy glow. I then dusted the bronzing powder into her cheeks, along her jawline, and across her forehead. I blended a sunny peach blush across her cheeks, chest, and shoulders for extra radiance. For the eyes, I blended a creme shimmery black eye shadow just to her upper lid. Then lined her upper eyelid with liquid eye liner, curled and coated her lashes with black mascara, and drew a very thin Black line below her bottom lashes, and a lined the inside with a soft white eyeliner to open and brighten Khloe's eye's. I wanted this look to be sensual and dramatic not over done.For the lips, I applied a sheer gold lip gloss that came in the bronzing Dior kit,"loved"the shimmery gold glosss with my sexy smokey eye. After I finished the look, I shot a few pictures of Khloe around her parents beautiful new home. Khloe looked amazing on the red carpet. She looked sexy, glowing and can you believe that body? Amazing!! So if you like this look, you better put a comment on it!! I want to hear what you think. xoxo Tj."-Troy Jensen.