Makeup artist and photographer, Troy Jensen, photographed and did Khloe Kardashian's makeup for the PETA Campaign.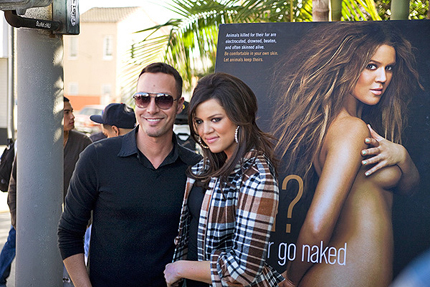 Troy Jensen and Khloe Kardashian.
From Troy  Jensen's website I can tell that Troy also photographed and did makeup for Kim Kardashian, and Kourtney Karadshian aka the Kardashian sisters:)
How to get Khloe Kardashian's Makeup Look by Troy Jensen:
My idea for Khloe's look for the PETA campaign was to embody the inner wild child that she is, still being approachable, sexy, and beautiful. It was all about gorgeous sun-kissed skin and wild hair. To get the look, I called on two other professionals in my field. One, spray-tan Guru Jimmy Jimmy Coco, who bronzes up Hollywood's top beauties – Victoria Beckham and the Pussycat Dolls, to name a few. I also called upon my long-time friend and colleague, celebrity hair-dresser, Frankie Payne, to create Khloe's wild textured hair-style.
We also wanted to incorporate Khloe's awareness for the environment by incorporating a touch of green ("Green is in").
OPI Mail Lacquer – Gargantuan Green Grape.
For behind the scenes photos of Troy Jensen with Khloe, check out Khloe Kardashian's blog.
"I recently photographed Khloe Kardashian for a national PETA campaign. The ad is blown up huge for a Hollywood unveiling. There's already so many haters crediting the fact that she looks so good due to Photoshop. I promise that wasn't the case. She's not a model, she's not an actress, she's a personality who stars in one of the highest rated reality shows on television. PETA was not stupid in their decision to ask Khloe Kardashian to pose for their campaign to bring awareness to the cruelty of millions of animals brutally slaughtered for their fur. This campaign's purpose is to bring awareness. Regardless of what people think of her place in the media, she is kind and sweet but also outspoken, free-spirited, and brave to pose nude for me and for a national PETA campaign. In spite of what people think of her looks, weight, hair, and green nails, I'm very proud of Khloe and I'm proud to be a part of this very important cause."-Troy Jensen.
"Compassion is the fashion this holiday season, so join me in boycotting fur. With all the stylish and super warm things you can wear, it's easy to have a killer look without killing animals."-Khloe Kardashian.