Scarlett Johansson's Summer Red Carpet Looks by David Babaii.
Celebrity hairstylist David Babaii recently coiffed his client Scarlett Johansson for a few summer Red Carpet Events, creating some dramatic variations to her long strawberry blonde locks.
Scarlett Johansson at Comic-Con 2009: To achieve this curly, wavy, sexy look for Scarlett Johansson's appearance at Comic-Con 2009, celebrity hairstylist David Babaii applied his Amplifying Whipped Mousse from roots to ends. This gives just the right amount of volume and hold to her strawberry blonde hair.
Next, he rough dried her tresses by using his hands, moving the hair in various directions. Once dry, he sectioned her hair into 3 different parts: top, sides and back leaving the nape area free. This is one of David's most important styling tips, since you need to have constant control over the hair at all times. To create his famous wavy curls, he used a 1 ½" sized FHI Heat Ceramic Curling Iron.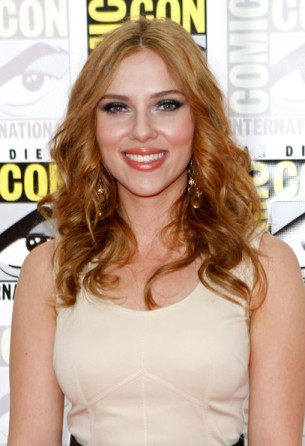 To style, he took small "V" shaped strands and wrapped them around the inside of the barrel. Then, David allowed each curl to fall naturally. Through selected strands, he ran his fingers up the partially curled strand to achieve added volume. For additional lift at the scalp area, he sprayed Volcanic Ash Root Amplifier on his finger tips and applied to the root area by roughly massaging into the area. This adds added fullness and texture. To complete, he sprayed Mise en Plis Light Styling Spray.
Scarlett Johansson at LA Shorts Fest '09
David Babaii's inspiration for Scarlett Johansson's style was a 40's Marilyn Monroe look with the illusion of a chin length "bob" without cutting any hair!
After drying her locks with Hair Polish applied to damp hair, David divided her tresses into 3 sections: top with a side part, sides and back leaving the nape area free. To create these large barrel sized curls, he took alternating "V" shaped partings to avoid any part lines from showing through. David used a 1 ½ inch FHI Heat Ceramic Curling Iron throughout her entire head. The sides and back curls were pinned into various sized looped curls giving the illusion of a short "bob". On the top, he gently brushed her hair to one side forming soft waves. For added glamour, David brushed back one side and secured with a decorative hair pin. For hold, David used his Mise en Plis Light Styling Spray for a soft long lasting hold.
 Please visit www.db4wildaid.com  for information on where to purchase the David Babaii for WildAid product line.
David Babaii interview with Marta Walsh