Here is an exert from an interview with Jay Manuel for BeautyInterviews.com. The fabulous Jay Manuel is most known as the director of photo shoots on the hit reality TV Show: America's Next Top Model. Jay has also developed his own cosmetics line called: Manual Override.


Jay Manuel.
When did your fascination with style and beauty begin?
When I was quite young, Prince Charles and Lady Diana got married and I was obsessed with the train. Also, in high school when I was on a science track and studying pre-med, I was always fascinated with style. My sister and I laugh about it now, if you look at pictures of me and my room growing up, all my walls had magazine ads. I even had double-page ads from Saks Fifth Avenue. I didn't even know what Saks meant.
How was the concept for Manual Override Cosmetics born?
It is very simple but as a makeup artist I have so many brands sending me products for years. And just going to the stores you see all these products everywhere. The same message is out there. They usually have an inspirational image of a woman, sending the message: buy all these products and you will look like this. No one was really addressing the individual. From being on America's Next Top Model, I've received so many letters from fans and women talking to me about makeup and the problems they were having, things they liked and didn't like. And I just felt women they like to keep their makeup bags and their makeup drawers and they don't want to really want to throw away products when they get new ones. They always add to it. So what I wanted to do is to help create the first real complimentary line of cosmetics that is designed to elevate your style. As a makeup artist I was brought to work with many celebrities and models and there is a certain look, especially when you are a celebrity, that you have to maintain. And people know you for that look. And what I want to do is to elevate their look not change it. So this is how I came up with Manual Override which includes problem fixing products.
We just launched a new product that is completely sold out on e-commerce and QVC. It is revolutionary. It is the first complete silicon based concealer without oil. It covers hyper pigmentation and age spots without rolling into fine lines or looking dry. It is doing very very well.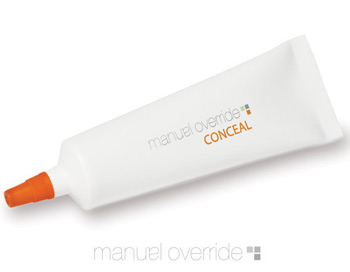 Conceal by Manual Override Cosmetics.
Which product from your line are you most proud of?
I am proud of all the products because they are all innovative and that was the important thing for me. I love the new concealer because even of you don't wear makeup everybody needs a really good concealer. Especially women who don't wear makeup, they don't want to wear powder they want to matte it down. Most concealers are very chalky and roll into fine lines. Creating and developing this formula took almost a year and maybe even longer and it's been very successful. The other product that I love is called: Radiant Dimensionwhich is based on a very simple concept drawn from my own technique of doing makeup. Lots of people use face powder or foundation powder or liquid and they create a musk effect on their face. And if you don't wear a lot of eye makeup or blush you can look like you are wearing a mask. And as a makeup artist what I would do is what I call: burning. Shade around the hair line and cheekbones always with a bronzer. But bronzers tend to go very gold or orangey. So I created a product that is silicon based pressed powder, and a complimentary modified bronzer to eliminate the mask effect. It is called Radiant Dimension because it puts radiance and puts dimension to your face where your skin naturally has.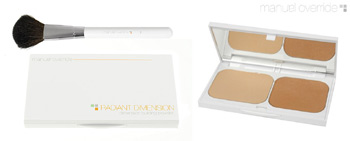 Radiant Dimension by Manual Override Cosmetics.
What was your favorite aspect of working on America's Top Model and Canada's Next Top Model?
These shows are different. On the American show I produced and was the creative director. On the Canadian show I co-host and executive produced, and I have to say I enjoyed that. Because I really get to on the Canadian show, which was very successful even on an international level, to design every aspect of the judging room completely myself. On America's Next Top Model I run the finales, the photo shoots, it is still a lot, but it is nice to create an overall look of a show. Certainly for me it's really being able to, and this goes back for both shows, to really give back. I think I have been so fortunate to work with amazing visionaries like Richard Avedon and Herb Ritts, people who are no longer with us, that taught me a lot. I think it is really important for young upcoming models to learn the same tricks of the trade, that the all business is about smoke and mirrors, and understand it. People have a certain flair for this business especially young models, but there a lot of things that can be taught. That's the thing that drives me to do these shows season after season: it is giving back. I know the show edits down things and all you can see is me saying things like:" That's great" or sometimes I'm saying something funny, but really I spend the most time with the girls, 14 hour day is not unheard of. And I really get to teach them, and that's the part I like.
Jay Manuel was interviewd by Marta Walsh. Read complete interview at Beauty Interviews!