Celebrity Stylist Jen Atkin created an elegant look for Jessica Alba at the 'An Evening with Ralph Lauren' hosted by Oprah in NYC. Hairstyle Inspiration: A Chinese-inspired, classy updo with an Asian twist.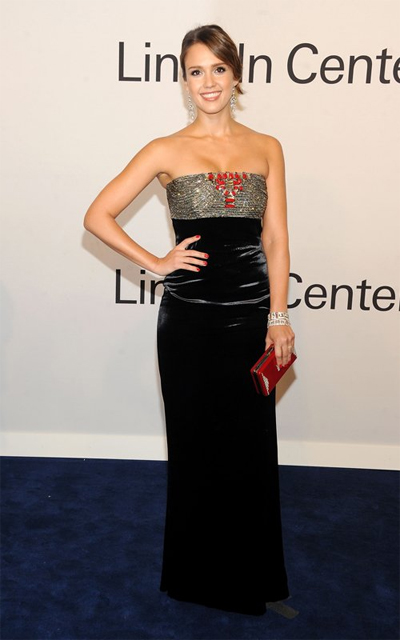 Jessica Alba At The  'An Evening with Ralph Lauren' hosted by Oprah
How to get Jessica Alba's hairstyle:
Prep the hair by applying a wave spray, such as Bumble and Bumble Surf Spray, throughout the hair to give it volume and texture. Blow dry the hair all the way through using a round brush. When the hair is fully dry, use a 1 inch curling iron create loose thick curls throughout the hair to infuse body. Separate the bang section and create a strong part to one side, putting the rest of the hair in a low ponytail and secure with a bungee band. On the ends of the hair, apply KeSARI Indian Oil Hair Serum ($31.50, available at KeSARIBeauty.com) to make the hair glossy and smooth. To create the up do, take large sections of the hair and twist them up. Secure each twist using French hair pins. To finish off the look, apply a small amount the KeSARI Indian Oil Hair Serum into the bangs and on the sides of the hair to maximize shine.
Atkin said: "The KeSARI oil is perfect for red carpet events because it does an excellent job of keeping the hair healthy and shiny, especially when cameras hit it!"