Make up artist and MAKE UP FOR EVER ALLIANCE member James Vincent created Joan Jett's sultry make up look for the New York premiere of "The Runaways".
The Look and Inspiration: True to Joan Jett's rock n' roll roots, she rocked a classic yet modern smoky eye. According to James Vincent, who used MAKE UP FOR EVER products to get Joan's red carpet look, "the perfect Joan Jett eye takes subtlety, persistence and an understanding of what's sexy."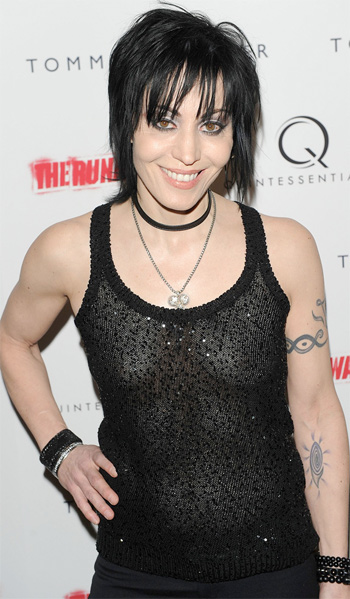 Makeup Tutorial: How to get Joan Jett's makeup look
Complexion: James kept the skin glowing and gorgeous with MAKE UP FOR EVER HD Elixir to add moisture to and perfect the skin. He then applied a small amount of MAKE UP FOR EVER HD Invisible Cover Foundation #117, which provided a great canvas, as well as the new HD Invisible Cover Concealer for light, luminous, natural coverage, and a touch of HD Microfinish Powder to keep Joan looking polished all night.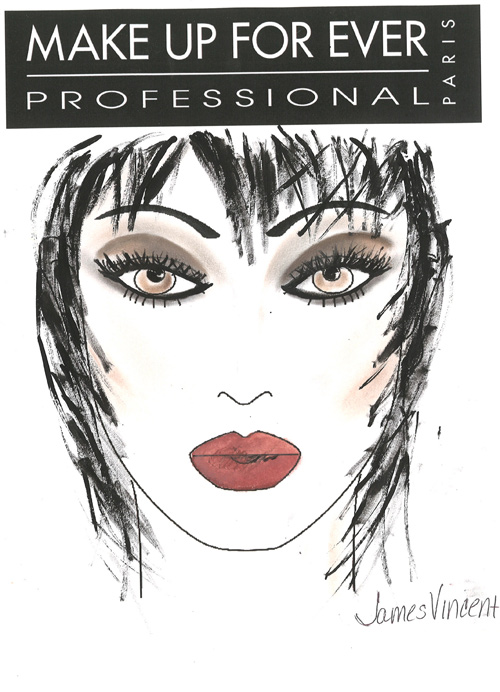 Joan Jett's makeup face chart by MAKE UP FOR EVER
Eyes: "The eyes are Joan's most famous feature and she knows exactly what she wants to do to draw attention but still keep the look modern and fashionable," says Vincent. Start with MAKE UP FOR EVER Eye Shadow #35 from brow to lash to create the perfect base. Next, sweep MAKE UP FOR EVER Diamond Powder #11 gets across the brow bone for a beautiful highlight, and MAKE UP FOR EVER Eye Shadow #13 to bring depth to the crease. Use the same shadow to line the top and bottom lashes for soft diffusion of the liner, which gives depth and drama and keeps the hard-edged liner look smoky and sexy. MAKE UP FOR EVER Aqua Eyes #0L is the perfect black pencil to apply inside the eye and along the top and bottom lash lines. Then, apply a bit of Aqua Eyes #2L to add a rich, brown warmth to the look and keep it from looking hard and typical. Smudge the pencil and set with MAKE UP FOR EVER Eye Shadow #139 for even more smokiness that works for every occasion. Lashes get extra attention with a liberal coating of MAKE UP FOR EVER Smoky Lash. And James says, "put the lash curler down and let the lashes stay straight and spiky for rock chick realness."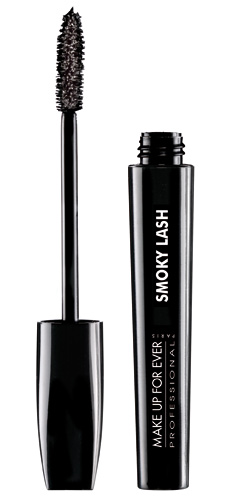 Cheeks: Joan's classic cheekbones are the type you wish you were born with, but can easily fake by contouring right below the bone from temple to apple with MAKE UP FOR EVER Eye Shadow #13. Keep blush natural by avoiding strong color. Just use a touch of Powder Blush #69 on the apple and Matte Bronze #2 at the highest point of the cheek bone give life and light to the makeup and balance off the strong eye.
Lips: MAKE UP FOR EVER Aqua Lip pencil #3C gives every girl the ability to keep their lips looking luscious without worrying about where it's going to end up. A touch of MAKE UP FOR EVER Fascinating Lip Gloss #9 in the center of the mouth completes the look and lets everyone know you love rock n' roll as much as Joan.
"The Runaways" opened on Friday, March 19th, 2010, in select cities, and opens nationwide on April 9th, 2010. And, Joan's new album, Joan Jett and the Blackhearts Greatest Hits, came out last week.