The Estée Lauder Companies' Breast Cancer Awareness Campaign announces creation of the "World Pink Mosaic". Simply follow THIS LINK  sign in, upload your photo, and join all others who survived breast cancer, touched by it, or support the Breast Cancer Awareness Campaign!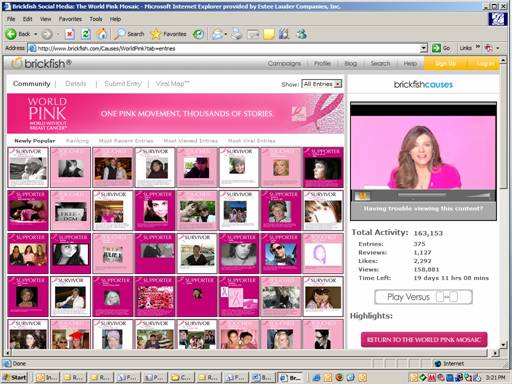 Building on the success of its first comprehensive digital marketing effort in 2008, people from around the world can submit their photo into this virtual mosaic as a simple means of donning a virtual pink ribbon and lending their participation and support to this global cause. Participants can distinguish themselves within the mosaic as either "supporter," "survivor" or one "touched" by this disease, through photo frames in different shades of pink or white. As submissions are uploaded, they become part of a virtual tapestry that will take the shape of a giant Pink Ribbon. Individuals can, in turn, share their participation with friends and family by posting it to their social networking profiles, sending a link to Twitter or emailing it.The Estée Lauder Companies' Breast Cancer Awareness Campaign's is launching an unprecedented "World Pink Mosaic" on October 1, 2009 – the centerpiece of its 2009 global online effort – to kick off Breast Cancer Awareness Month. In keeping with the theme of the Company's Breast Cancer Awareness Campaign: "World Pink. World Without Breast Cancer." the Company is planning to create the world's largest online photo mosaic in the shape of a Pink Ribbon, with participants from around the world sharing their support for breast health and the desire for a world without breast cancer. The online campaign will reach an estimated 200 million people worldwide.
Mrs. Evelyn H. Lauder, Senior Corporate Vice President of The Estée Lauder Companies and Founder and Chairman of The Breast Cancer Research Foundation stated, "I'm thrilled that we will be extending The Estée Lauder Companies' Breast Cancer Awareness Campaign to new lengths this October by reaching millions of women and men worldwide with the lifesaving message of the importance of breast health and early detection through the World Pink Mosaic in the shape of the ubiquitous Pink Ribbon. The Estée Lauder Companies' Breast Cancer Awareness Campaign has now distributed more than 100 million Pink Ribbons and this online initiative allows us to reach people on every corner of the earth. Join Us! Knowledge is power and early detection saves lives."
The World Pink Mosaic will be accessible through multiple locations on the web, including The Breast Cancer Research Foundation's official website, Brickfish.com, the social media platform provider of the campaign, and 15 Estée Lauder Companies brands' websites (a complete list is below).
Banner ads calling attention to the World Pink Mosaic are expected to deliver upwards of 200 million impressions, running across a range of publisher sites, ad networks, mobile networks and social networking sites.
The Estée Lauder Companies' 2009 Online Breast Cancer Awareness Campaign is being made possible through the generous support of several key online media and agency partners: Brickfish, Tender Creative, phd Media, Attention! Social Media Marketing and Range Online Media. In addition, numerous online media sites, and networks donated advertising inventory to help support the cause and drive World Pink Mosaic participation.
The following Estée Lauder Companies Inc. brand websites will be hosting the 2009 World Pink Mosaic:
www.aveda.com
www.bobbibrowncosmetics.com
www.bumbleandbumble.com
www.clinique.com
www.darphin.com
www.dknyfragrances.com
www.donnakaranbeauty.com
www.esteelauder.com
www.jomalone.com
www.labseries.com
www.lamer.com
www.ojon.com
www.prescriptives.com
www.seanjohnfragrances.com