Celebrity makeup artist Adam Breuchaud and celebrity hairstylist Cervando Maldonado worked with Julia Jones for the premiere of The Twilight Saga: Breaking Dawn Part One on November 14th, 2011, in Los Angeles.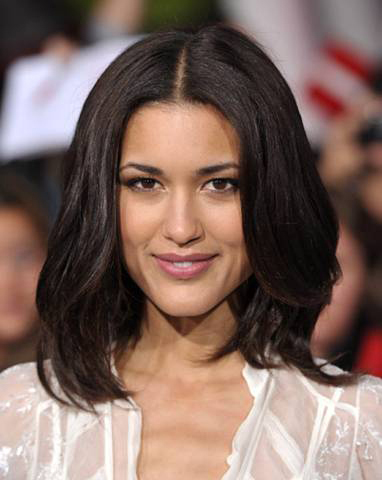 Julia Jones At The Twilight Saga: Breaking Dawn Part Premiere
MAKEUP ARTIST ADAM BREUCHAUD
BEAUTY INSPIRATION: "With Julia wearing such a soft flowing gown, we tried to keep it in that same vein. Angelic. "
How to get Julia Jones makeup look:
"A great way to show drama with your eye makeup without getting too heavy is to use golden browns instead of cooler blacks. The eye shadow we used to achieve Julia's look was Dior's 5-Colour Designer All-In-One Artistry Palette in Amber Design. You can then add a smoked out black liner to just the corners to really define your eye. For Julie, we added a slightly darker brow and great lash to this glowing look to really sculpt her gorgeous features. I always love the cream bronzer from Chanel, CHANEL Bronze Universel. Through the summer it will give you an amazing bronze glow, but in the winter try using it as a contour to help define your face.
Continue the warm sunset tones into your blush and lip color to really define your natural beauty…!"
HAIRSTYLIST CERVANDO MALDONADO
Celebrity Hairstyle Inspiration: "The inspiration was for the hair was to be clean and modern and natural. "
How to get Julia Jones hairstyle:
"First, I distributed Rose Veil Oil thru wet hair to calm frizz. Then I dried the hair straight with a round brush, and while blow drying I clipped each section up in a loose pin curl and let set for 10 minutes. Next I took the curls down to give a loose movement to hair, and afterwards I used an 1 and a half in curling iron thru the hair, sectioning hair and starting from the bottom up to the top of the head. This creates a natural loose wave with lots of movement. Then I applied a pea size amount Phyto Matte Texturizing Paste in my hand, rubbed it in-between my palms, and raked the product thru. Starting with the ends, then using the remaining product to take away fly aways on the top of head. I finished with L'Oreal Elnett Extra Hold Hair Spray to finish the style and add hold to the front of the hair around the face, creating hold without looking stiff."