Kiehl's introduces a Limited Edition Celeb-Designed Label Art Series for their Açaí Damage-Protecting Toning Mist to benefit the Rainforest Alliance just in time for Earth Day.
Kiehl's has long had a strong commitment to the environment—not only do they have an ongoing "Recycle and Be Rewarded" program in their free-standing stores, last year, they raised $100,000 for Waterkeeper Alliance in a charitable partnership with Adrian Grenier, Kelly Slater, Erykah Badu and Parsons The New School for Design.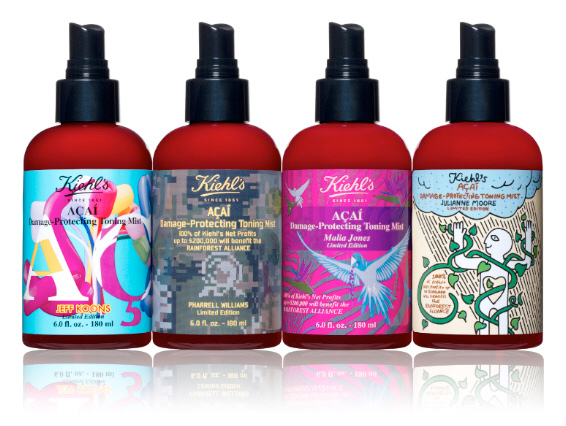 L to R: Kiehl's Açaí Damage-Protecting Toning Mist Limited Edition Celebrity Designed Labels: Jeff Koons, Pharrell Williams, Malia Jones, Julianne Moore
This year, in a new partnership, Kiehl's collaborates with actress Julianne Moore, musician Pharrell Williams, artist Jeff Koons and pro-surfer Malia Jones to raise funds and awareness for the Rainforest Alliance, which is dedicated to sustaining biodiversity and ensuring sustainable livelihoods.
For this initiative, each partner created a Limited Edition label for Kiehl's Açaí Damage-Protecting Toning Mist – itself part of a skincare collection that is not only Eco Cert certified organic, but is also the first skincare range to ever receive gold standard Cradle to Cradle certification – meaning that it is made with the least amount of waste from start to finish.
100% of net proceeds (amounting to $200,000) will be raised worldwide to benefit Rainforest Alliance with this collection. (Please note: there is a slight variation to the bottle assortment available internationally—the bottles available in the US will feature labels designed by Jeff Koons, Pharrell Williams, Malia Jones and Julianne Moore.) To support the project, celebrity photographer David LaChapelle will capture each personality in his unique style.
Each mist is $26. The collection will be available on Kiehls.com and in all Kiehl's Since 1851 stores in April 2010.