Spotted Kourtney Kardashian stocking up on L'Oréal Paris Elnett hairspray at her local Walgreens in LA. Did you know this hairspray was an overseas cult favorite for years and is finally stateside. Marta Walsh says: "I tried it and it's GOOD"!!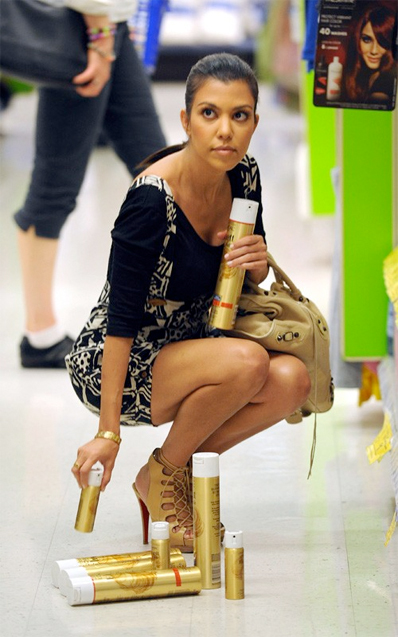 About L'Oréal Paris Elnett Satin Hairspray: It's the legendary hairspray of choice for red carpet events and cover photo shoots. That's because Elnett Satin Hairspray instantly gets your hair ready for the spotlight.
Its micro diffuser sprays ultra-fine and disappears at the stroke of a brush offering strong, clean hold with a dazzling, star-worthy shine and a soft satin touch, while humidity protection lets its stand up to the elements. The exceptional formula has evolved over four decades, constantly incorporating breakthrough technology and optimized ingredients, to transform the beloved classic into a versatile beauty essential for every woman.
Available at www.lorealparis.com and chain drug, food and mass market retailers in various holds and sizes:
Strong Hold (11 oz), $14.99
Extra Strong Hold (11 oz), $14.99
Extra Strong Hold (2.2 oz), $6.99
Extra Strong Hold UV Filter (11 oz), $14.99