Fekkai's Adir Abergel created a feminine and flirty style for Kristen Stewart's David Letterman appearance and collaborated with Marie Robinson to change her hair color to strawberry blonde.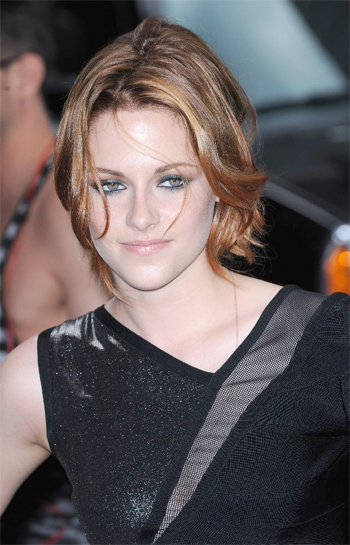 Here's how to get Kristen Stewart's Hair At The Late Show with David Letterman: Abergel started by applying the Fekkai Advanced Full Blown Volume Styling Whip at the roots and working throughout the hair. Using a round brush, he blow-dried the hair straight, and spritzed the Fekkai Advanced Brilliant Glossing Sheer Shine Mist for added shine. Adir curled the hair using a 1-inch curling iron, and sprayed with Fekkai Coiff Ocèanique Tousled Wave Spray to create the flirty texture. He then pulled the hair back loosely and secured it by knotting at the nape of the neck. To finish of the look, Adir sprayed Fekkai Advanced Sheer Hold Hairspray.
COLOR: Adir teamed up with Clairol Celebrity Stylist, Marie Robinson, to dye Kristen's hair strawberry blonde. Abergel encouraged Stewart to return to her natural roots, and pulled images from the 1950's for inspiration. To achieve Stewart's strawberry blonde color, Abergel suggests using the Fekkai Salon Color 6R Copper-Lucy.