Prada Parfums has launched a new advertising campaign for Prada Infusion d'Iris which features model Lara Stone, shot by famed photographer, Steven Meisel.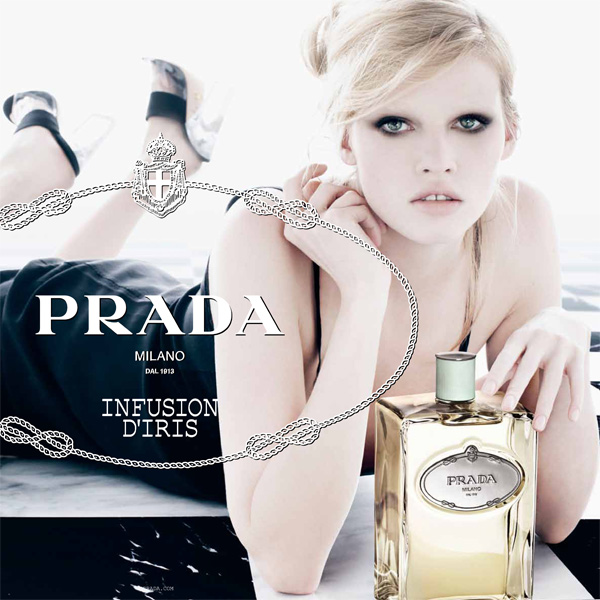 Prada Infusion d'Iris: Since its arrival in 2007, Infusion d'Iris has redefined the rules of contemporary perfumery through its delicately balanced mix of tradition and sensuality: an inspiring and joyful vision of what it means to be a woman today. Infusion d'Iris captured the attention of the market, opening up a new space within the Prada Parfums portfolio for fresher scents, within the context of Prada's vision of timeless heritage fused with uncompromising modernity. Now, Prada Parfums has launched a new advertizing campaign that brings these qualities into a fresh alignment.
Shot by Steven Meisel, creator of many of Prada's most striking images, and featuring model Lara Stone, this print media campaign creates a compelling vision of the unique qualities that make Infusion d'Iris an inspiring, unforgettable experience.
Lara Stone lies on a marble check floor, the same emblematic floor found in the original Prada store at Milan's Galleria Vittorio Emanuele II. Her gaze, both alluring and inquiring, holds our attention for a moment, but soon our eyes are irresistibly drawn to the object before her: an outsize flacon of Infusion d'Iris.
Sensual and evocative, this image reconnects the viewer to Prada's heritage represented by the historic Prada crest that graces the bottle of Infusion d'Iris, the true protagonist of this campaign.
A celebration of the timeless Prada heritage, brought into a sharp contemporary focus.