NEW YORK, NY (August 29, 2011) – Living Proof Full Thickening Cream has been selected Best Volumizing Styling Product by QVC viewers in the multimedia retailer's third annual Customer Choice Beauty Awards. Nearly 30,000 customers voted for their favorite brands and products over a two-week period and the winners were revealed during two live broadcasts on August 27. Customers chose favorites from among many prestige beauty brands in more than 25 categories, including cosmetics, hair care and skin care.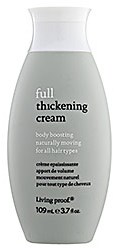 Living Proof Full Thickening Cream transforms fine, limp hair into hair that looks, feels and acts like full, thick hair. Based on technology from the research laboratories of Drs. Dan Anderson and Bob Langer at MIT, Living Proof's team of world-class scientists invented the new material found in Full: Poly Beta Amino Ester-1. This latest advancement gives thin, limp hair a natural, youthful fullness. Best of all, unlike typical volumizers, which are brittle and stiff, the hair remains soft and the style remains full and bouncy even as you run your fingers through it throughout the day.
Full Thickening Cream deposits Living Proof's proprietary molecule, Poly Beta Amino Ester-1, onto the hair in a micro-pattern of completely flexible and indestructible thickening points. These volume-boosting, texture-creating points can't break or flake off, unlike the stiff, brittle resins used in other volumizers on the market today. When Living Proof stylists put Full on test subjects' hair in the lab, the reaction was always the same: the person not only saw fuller hair, but also felt like he or she had more hair. The sense of natural fullness, flowing and touchable, was unmistakable. And because of the flexibility and durability, the fullness lasts all day. QVC customers have shown that they agree that Living Proof Full lives up to expectations by electing Full Thickening Cream as 2011 Customer Choice Winner for Best Volumizing Styling Product.
"We are proud to offer our customers access to brands and products that rival the best in the market," said Claudia Lucas, director of beauty merchandising for QVC. "The QVC Customer Choice Awards let our customers share their experiences with each other, and reward those brands that exceed their expectations."
"Living Proof's mission has been to bring together some of America's leading biotech and medical scientists to create beauty products that go beyond marketing hype and truly work. So, it is an honor to see that QVC consumers, who are both knowledgeable and discerning, stand behind our products." Jon Flint, CEO of Living Proof.
Living Proof Full Thickening Cream (QVC Item #A200615) is available for approximately $21.50 on QVC.com.