I love everything for my hair from Living Proof: their shampoo, conditioner, styling cream wave shaping , styling cream straight making. Their new product addition is: Living Proof Full Thickening Cream. I haven't tried it yet but I'm planning to! I will let you know all about my experience.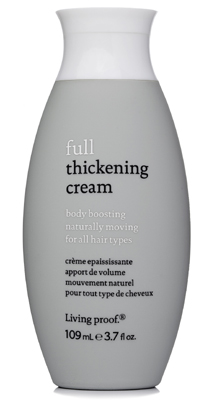 Meanwhile here are some details about Living Proof Full Thickening Cream:
THE "PERFECT" PROBLEM
Flat, limp, thin, or lifeless hair is a significant concern for many women and is the result of each strand being so smooth and fine that it lies flat, one strand on top of the other. The beauty industry has traditionally tried to add the appearance of volume by puffing up the hair with various sprays (glues, really), or holding the hair into specific positions with various brittle, "glassy" polymers.
Unfortunately, none of these solutions last more than a few hours, nor do they create a natural sense of fullness. Because these traditional polymers are so brittle and inflexible, every day forces like wind, humidity, a hat, or your fingers will cause them to break, leaving any volume deflated and your hair flat once again.
THE NEW SOLUTION
To address the problem of limp hair, Living Proof sought to create a brand new polymer that would be both flexible and durable, giving hair substance and motion without using the hard, brittle and breakable polymers currently available. While this seemed like an easy problem at first, the team quickly ran into a significant problem: how to balance two very different characteristics in one material. Specifically, Full needed a polymer that was strong and elastic, but also provided great attachment to the hair without being sticky.
EXPERT TIPS
Creating lasting volume and thickness is dependent on many factors. To enhance the effects of Full, professional hair stylists and Living Proof co-founders, Ward Stegerhoek and Mitch DeRosa, recommend the following additional tips for ultimate fullness:
Layers
The most volume will be achieved if you have some layers in your hair, whatever the length is. Make sure to ask your stylist to give you some layers if volume is your top hair concern.
Don't Overly Condition the Hair
You certainly want to have your hair well hydrated, but be careful not to excessively moisturize with heavy masks as this can tent to weigh the hair down, especially if your conditioners have lots of oils and silicones. This weight may counteract the benefits of a volumizer or thickener, like Full.
Style with Heat
The most volume will come from starting with clean hair and blowing it dry following the instructions above. Air drying will give you texture and definition, but usually not as much volume as heat styling.
Remember That Different Products Do Different Things
Full is a thickening product; it is not a root lifter and it will not give you hold. Cocktail Full with your favorite root lift product or holding product if that is the look you want. And experiment – have fun with your hair until you find your favorite style.
Coloring helps
For those of you who color or highlight your hair, this will give it added texture and will help give the appearance of more volume.
Full Thickening Cream is available at Sephora, QVC and Livingproof.com beginning in February 2010; $24 for a full size and $14 for a travel size.